Ferdous, Prosenjit reunite after seven years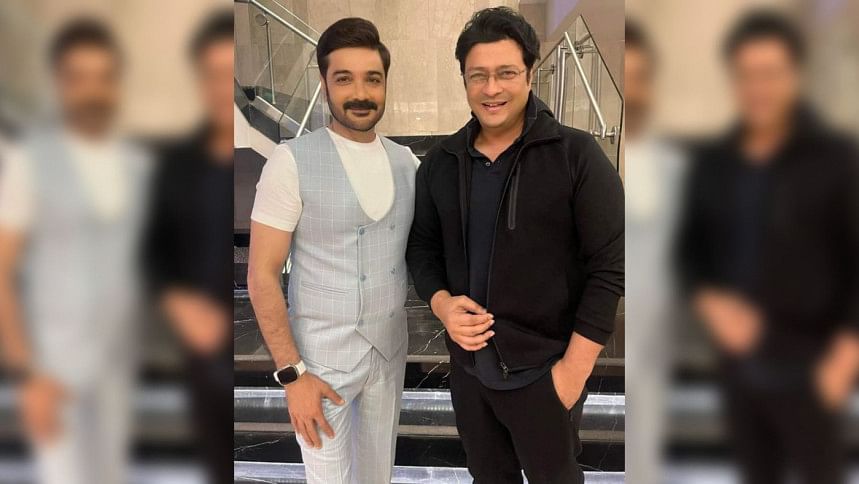 Once upon a time, Dhallywood superstar Ferdous was a regular face in the Bengali cinema scene of Kolkata. Between 1998 and 2003, he worked in a record number of films in West Bengal. During those days when the "Hothat Brishti" star was travelling between Dhaka and Kolkata, he developed a wonderful friendship with the Tollywood megastar, Prosenjit Chatterjee.
Over the years, the bond of their friendship grew stronger. However, in recent years, Ferdous was unable to travel or work in Kolkata due to some unprecedented issues. Now, after seven-long-years, Ferdous and Prosenjit met once again in the city of Kolkata.
Prosenjit was busy shooting a new film in the city. Upon receiving this news, Ferdous rushed to meet his old friend. As soon as the two met, they embraced each other like long lost friends who had found each other again.
Afterwards, the two chatted for over an hour. They talked about the cinema of Bangladesh, Kolkata and India. They also spoke about the advent of OTT, and how it had changed the industry. Apart from this, they also discussed their families, catching up on how each other's lives had been since they last met.
Speaking to The Daily Star from Kolkata, Ferdous said, "I met Bumba da after such a long time. Almost seven years! He hasn't changed one bit. As always, he embraced me with sincerity and love. I've always been fascinated by how he treats me. Even after so many years, I have been blown away by how wonderful he is."
The actor also added, "Bumba da loves me very much. He has a very big heart and even as a person, he is on another level."
A long time back, Ferdous and Prosenjit worked together on films. In total, the two of them have worked in two films together. One was called "Pratihinsha" and the other was named "Phool aar Pathor".
Ferdous said, "At one time, I was very busy working in both Kolkata and Dhaka. At times, I would spend 15 days of a month shooting in Kolkata, and the other 15 days would be spent shooting in Bangladesh. So, even though me and Bumba da only worked in two films together, our relationship is very deep and intimate."
When asked how Prosenjit is as an artiste, Ferdous answered, "Everyone knows how big of an artiste Bumba da is. He is a very talented actor and I am a big fan of his work."
During their recent chat, Prosenjit shared with Ferdous that he wants to visit Dhaka. Talking about this, Ferdous said, "Bumba da follows all of the news about the cinema scene in Dhaka. He expressed his desire to come visit Dhaka and I will be overjoyed if he comes to my side of Bengal."
When talking about their families, there was a lot of catching up to do. Ferdous shared, "Bumba da asked me about my children and offered them his blessings. Similarly, I also learned about what his son was up to nowadays and blessed him."
As the two were catching up, actor Jeet also came up to them. One by one, many others also joined in. Ferdous mentioned that Prosenjit had apparently come to reunite with Ferdous after just finishing a scene for the film. The actor also shared how he would cherish the memory of meeting Prosenjit after such a long time.
On the same visit, Ferdous also met Bidya Sinha Mim and her mother in Kolkata. Ferdous said, "It was great to meet Mim and her mother suddenly. It was a nice surprise."