Dhallywood actresses facing off this Eid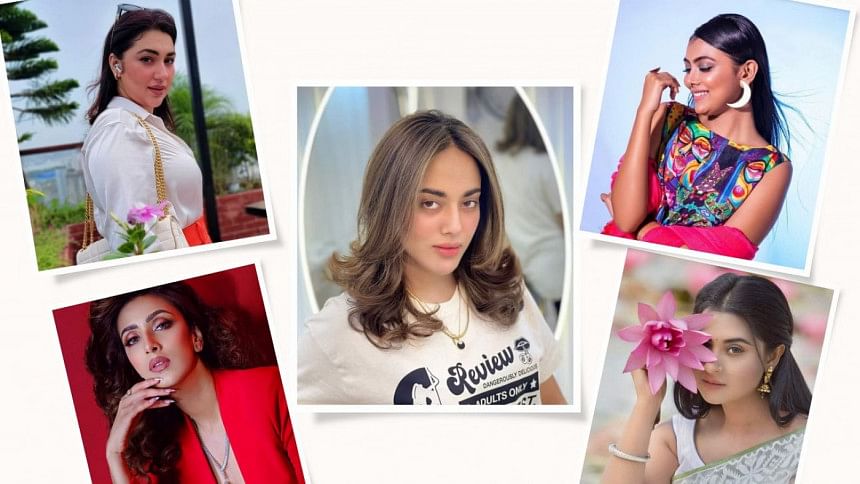 This Eid, we will get to witness several gorgeous actresses competing for the hearts of the public with their films. Apu Biswas, Shobnom Bubly, Tama Mirza, Idhika Paul, and Bidya Sinha Mim are some of the noteworthy actresses vying for the pedestal. Moreover, Bubly is likely to have three releases this Eid. Let us take a lot at some of the releases of the actors.
This Eid, Apu Biswas' "Laal Sari" will be released. Directed by Bandhan Biswas, the film stars Apu Biswas opposite Symon Sadik. Audiences have already expressed their love for the film's music.
Bidya Sinha Mim's "Antarjal" is also expected to be released this Eid. The film is directed by Dipankar Dipon and stars Siam Ahmed. This will be Mim's 20th film as an actress. In the film, she plays the part of Nishat, a cyber security specialist.
Shobnom Bubly has appeared in three films due to be released: "Prohelika", "Casino", and "Revenge". Her film "Prohelika," directed by Chayanika Chowdhury and starring Mahfuz Ahmed, has already received an uncut censor certificate. The film's song "Megher Nouka" has already received appreciation from fans. Aside from that, she also stars in Saikat Nasir's film "Casino" with Nirab Hossain, additionally appearing in Mohammed Iqbal's "Revenge" opposite Ziaul Roshan.
Tama Mirza starrer "Shurongo" will also be releasing this Eid. She will be seen alongside television's popular actor Afran Nisho. Directed by Raihan Rafi, the film has already created buzz among the audience.
Idhika Paul, a Kolkata actress, will be the leading lady in Himel Ashraf's film "Priyotoma" this Eid. In the film, she will be seen opposite Shakib Khan. Everyone has been praising Shakib Khan's first look from the film, making it one of the most anticipated films being released this Eid.
Only a few weeks remain in seeing which actress garners appreciation this Eid for their films, being appreciated for their wonderful performances by the Bangladeshi audience.