Chumki channeling her inner artiste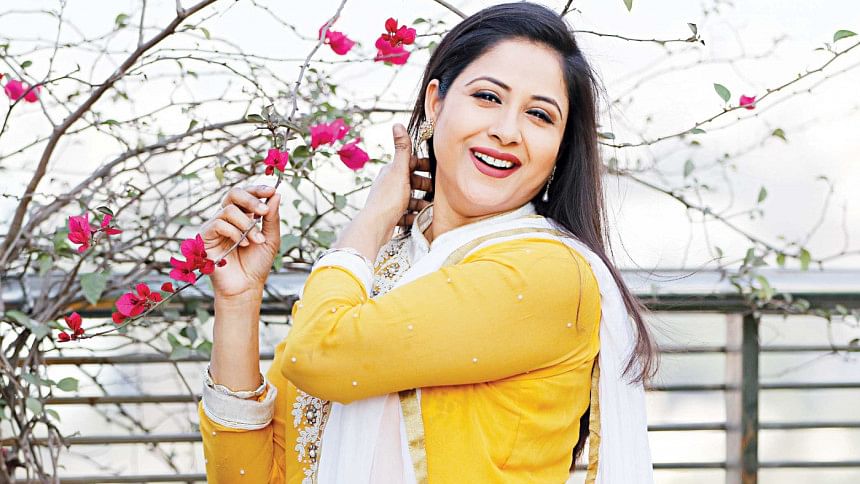 Farzana Chumki began her career in showbiz with the "Lux Anandadhara Photogenic" pageant. Theatre was the actress first stepping stone into the world of small screen. Chumki is associated with one of the renowned theater troupe "Dhaka Theater" and together they have performed a lot of plays.
In a candid interview with the Daily Star, the talented artiste reveals her love for theater and her upcoming ventures.
You are very active in theatre, which is rarely seen among artistes today. What is the reason for that?
Theater holds a special place in my heart and I have been working in this field for more than 20 years. I am truly fortunate that I am associated with renowned troupe "Dhaka Theater".
My first project with them is called 'Haat Hadai" and my last project with them is named 'Ekti Loukik Othoba Oloukik Steamer' which was staged during the coronavirus pandemic. The play has been written by Anon Zaman, and directed by acclaimed actor Shahiduzzaman Selim.
When Covid-19 cases was at its peak, we used to rehearse in zoom calls but when the Covid-19 cases got lessen, we started doing in-front rehearsals. During such rehearsals some of us got infected with Covid-19 but such was our love for theater that we couldn't keep ourself apart.
What are your recent projects in television?
Currently I am working in two mega-serials- one of them is "Smiritir Alpona Anki", which airs on ATN and another one is daily series "Gulshan Avenue Season 2". We are currently shooting for the tele-fiction in Gulshan. I was also working in two other projects but they were shelved due to Covid-19.  I want to lessen my appearances on television.
Why is that?
It's impossible for me to do characters that I used to do early onwards in my career. Now, I have to do roles according to my age and that is why I prefer to do fewer roles. I only want to do roles that will satisfy me as an artiste. I prefer quality over quantity anytime when it comes to work.
You have acted in only one movie throughout your illustrious career. Why is it that?
In the beginning of my career, I used to get a lot of offers for mainstream movies, but as my family didn't want me to do it, I had to decline it. The only movie that I have worked right now is Giasuddin Selim's "Paap Punno", which is yet to be released.
Nowadays a lot of story-based movies are being made and I want to be part of it. I want to do good movies so I am being selective for my roles. 
What do you think about recent tele-fictions?
A lot of good works are indeed being produced on television. We have a good set of artistes and directors who are making wonderful projects. Even though some works are going unnoticed, we are certainly producing quality works.