Apu Biswas: I believe in owning up to my mistakes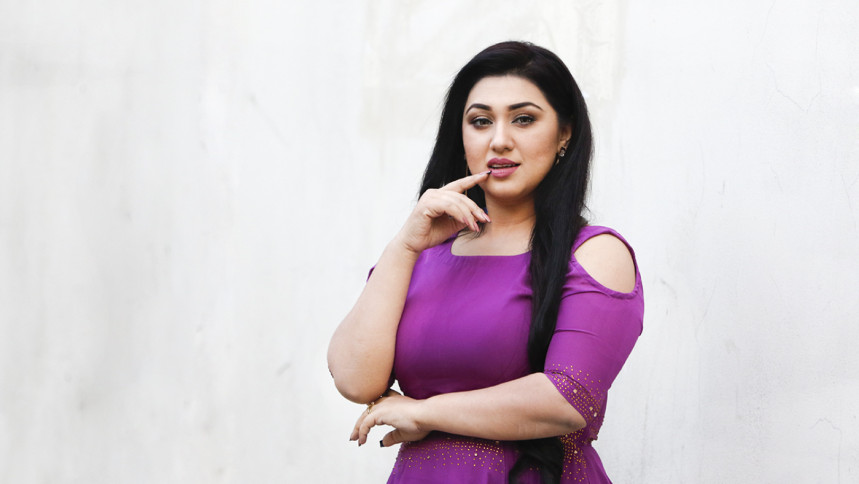 Noted actress Apu Biswas started her career as a model and slowly made way to the silver screen. Over the years, she has starred in over a hundred films, giving many super hits like "My Name Is Khan" and "Koti Takar Kabin", among numerous others.
In a candid chat with a The Daily Star, the diva talks about her life, experiences, and upcoming ventures.
There was a time while you had to spend most of your weekdays shooting. However, the coronavirus pandemic has altered that scenario for most of us. Being an actress, how are you adapting to the 'new normal'?
Not being able to shoot breaks my heart as I feel, without films my identity and being is incomplete. Before, I had trouble planning my shooting schedules as I mostly had to work on multiple projects simultaneously.
We have started working on limited scale now and I am hopeful. Despite the challenges, I look forward to returning to the silver screen soon.
Have you started shooting for any new projects?
Yes! I have been working since the lockdown has eased. Currently I am shooting for the film "Isa Khan", where I will play the role of Shonamoyee. I am also working on the government funded project "Chayabrikkho" and a romantic film named "Bondhon".
Apart from films, I am also taking up advertisements and brand endorsements.
Do you think film stars could be more unified?
Of course! We are a family and each family members has their own ideology and preferences. However, that does not mean drawing lines from within.
Films are for everyone, irrespective of their profession, social class, or cultural and traditional beliefs.
Working in harmony always leads to better productions and healthy competition is always more productive then rivalry. I believe, the lesser the differences, the smaller the chaos.
Do you plan on getting married anytime soon?
Not at the moment. I have been rather busy parenting my son and with new projects. My mother and relatives have been looking into prospective suitors but after her demise, I don't want to go forward in that direction anytime soon.
I am not against marriage. It's just that I don't want it on my tab at the moment.
Do you have any regrets?
In search of fame and success, I have taken steps that I am not proud of. Getting married while being at the peak of my career was one of my biggest mistakes in life.
Nevertheless, mistakes are a part of life. Instead of sidelining my faults, I believe in owning up to my mistakes and rectifying them.
Translated by Ashley Shoptorshi Samaddar