After Humayun Ahmed, Raihan Rafi carries celebrity image in the industry: Mim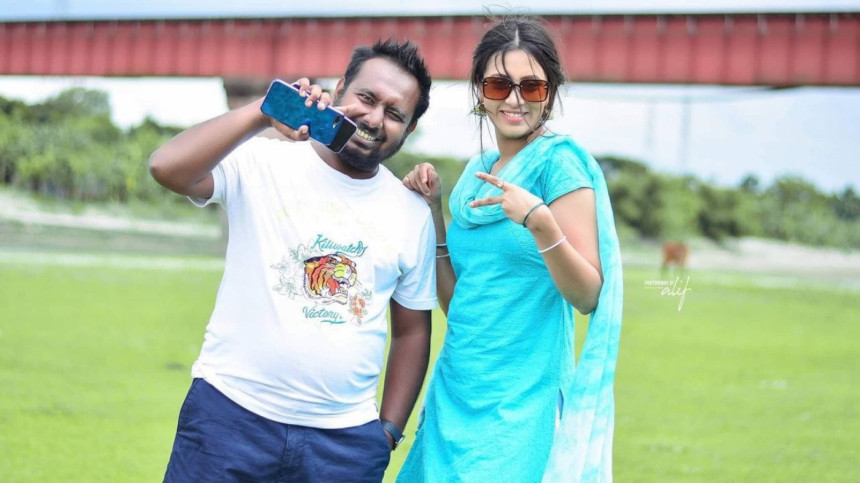 Bidya Sinha Mim is basking in the success of her latest film "Poran", which also stars Sariful Razz and Yash Rohan in lead roles. The Raihan Rafi directorial film has been performing well in theatres, with the audience appreciating Mim's acting in the movie.
Recently, Bidya Sinha Mim penned a heartfelt status about the director of "Poran", Raihan Rafi.
"I consider Raihan Rafi to be a magician. I didn't know him that well before working together on 'Poran'. While I had watched some of his films, I didn't know him personally. I never saw him projecting himself as a 'big director'. He always seemed to be in a fun mood on set," said Mim.
"Among all the directors that I have worked with till now, I think after the great Humayun Ahmed, Raihan Rafi carries the image of a celebrity filmmaker. People want to take pictures with him, everybody knows him as Rafi bhai. He earned this popularity through his hard work and I think of it as a big deal. Apart from the popularity of heroes and heroines, it is wonderful to see a director being given such star power in this industry," mentioned the actress.
"There were sequences in 'Poran', where the audience fell in love with Ananya's playful personality. Raihan Rafi helped me with those scenes by acting them out for me. I don't think I would have been able to do justice to Ananya's character without the help of Rafi bhai. He also helped Yash and Razz with their respective roles as well. Raihan Rafi really knows how to guide an artiste through the journey of their characters," added Mim.
"According to me, Rafi bhai's greatest quality is that he knows how to tell a story through a variety of angles. I have worked with him on two other movies, 'Damaal' and 'Ittefaq'. The shooting of 'Damaal' has been completed, while we are halfway through shooting for 'Ittefaq'," said the actress.
The actress concluded her post by saying that working with Raihan Rafi was a 'turning point' in her career, and how the director was now a lucky charm for her.