Afran Nisho's new look in Hoichoi's 'Sharey Showlo'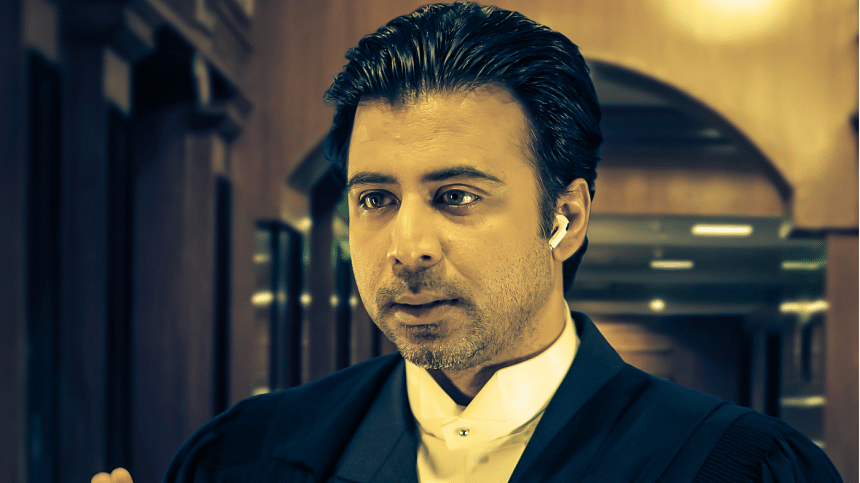 "One night, one hotel and one number: 16.5. The mystery will be 'elevated' soon!" wrote Hoichoi Bangladesh's official page, as they shared the first look of Afran Nisho as 'Reza', leaving fans questioning what kind of mystery lies ahead in "Sharey Showlo".
From the first look, it appears that Nisho has transformed his appearance to embody the essence of another complex character - Reza, a successful lawyer handling high-profile cases on behalf of a top real estate company. 
Director Yasir Al Haq's debut web-series, "Sharey Showlo", narrates the story of Reza, who gets involved in a complex turn of events, on the eve of the most important court hearing of his entire career. The series also marks the long-awaited return of Afran Nisho to Hoichoi, after his widely beloved role in "Kaiser".  
Talking about his role in "Sharey Showlo", Nisho said, "Reza is an intelligent and successful lawyer, yet a flawed human being who is cunning, yet also a family man. This is a character that greatly appealed to me and I am eagerly waiting for the audience's reaction to see me as Reza." 
"Yasir is a young, talented and promising director who is starting his career off with a great deal of potential. He is a man of sound mind and very dedicated to his craft. In fact, the entire 'Sharey Showlo' team was simply superb to work with and I wish them the best of luck!" shared the actor.
 Yasir Al Haq, the Director of "Sharey Shawlo" noted, "This is my first web-series and I am thrilled to pair up with Hoichoi for my OTT debut. No words can express my excitement! 'Sharey Showlo' was absolutely out of my comfort zone and that's why I chose to start my OTT journey with this project. The series will stream from August 17 on Hoichoi. I believe the series will elevate us to a place where the audiences will be locked in 'Floor 16.5' - that is quite relevant to the series, one will understand once the promotion of the show starts." 
 "Sharey Showlo" will be streaming from August 17 only on Hoichoi.