'Reflections': Irani Ahmed's sorcery of fabric and stitches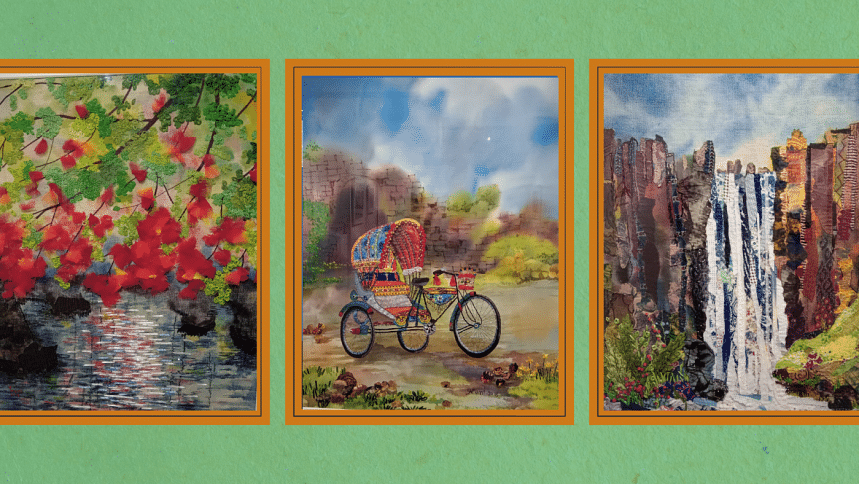 The inauguration of "Reflections"—a solo exhibition by Irani Ahmed—took place at Gallery Chitrak on Friday, September 23. The ceremony was graced by prominent artist Dr Farida Zaman as the special guest, and human rights activist Sultana Kamal as the chief guest.
Irani Ahmed, born in 1956, received her Bachelor of Fine Arts (BFA) in drawing and painting from the Institute of Fine Arts, University of Dhaka. Like most women in that era, she too, was drawn towards fabric embroidery. Our traditional Nakshi Kantha enticed her even more. She was also immensely inspired by the late artist Rashid Choudhury's tapestries.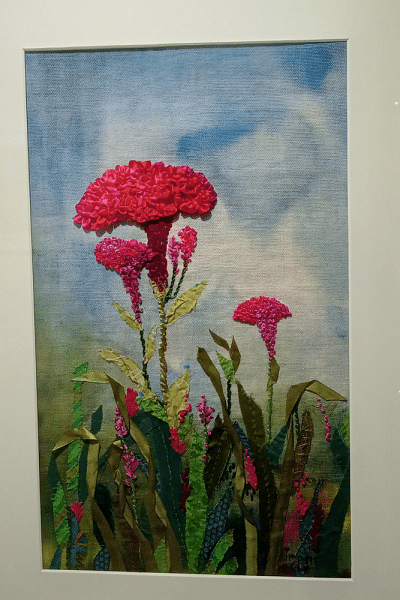 "Reflections" is the result of Irani Ahmed's dedication for the past six years. She chose the jute cloth as her base and illustrated nature, objects, and other concepts through hand embroidery, acrylic paints, cut and patchwork, beads, laces, satin ribbons, and different types of stitches. When asked about her work philosophy, Irani shared that she loves portraying nature through her work. She believes her chosen medium of fabric and her unique compositions are what make her artwork everlasting.
Gallery Chitrak has been turned into a wonderland of fabric art for the exhibition. The first jaw-dropping piece one will notice right upon the entrance, is "Rickshaw". It is a piece adorned with beads and floral fabric. The wheel contains metallic strings. The blurred background has mellow acrylic shades. On the other hand, "Lotus-3" contains cutwork, tiny stitches, and lovely vibrant shades. Another piece inspired from nature, "Forest-2", is an ethereal blend of colours. It portrays a swamp with grass flowers in chain stitches, and dead trees in semi-sparkling beads.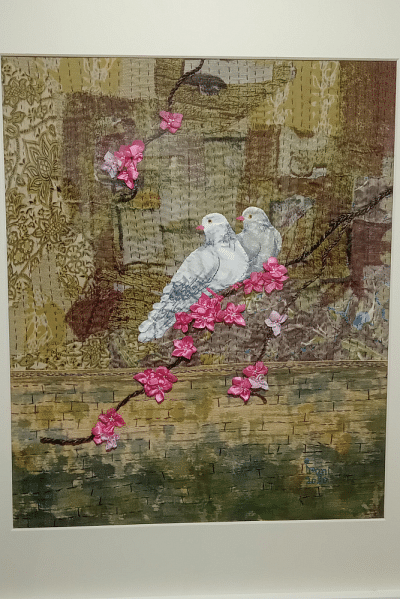 The features that stand out the most in Irani's work are colour balance and hierarchy, unique compositions, and the versatile use of mixed media. Several of her artworks feature adorable birds. "Flower" has a gloomy blue background with bright multi-coloured flowers, and leaves made with folded fabric. With shimmering black beads and eye-soothing shades of green, "Forest-1" is straight out of a fairy tale.  "Thought" is a remarkable display of systematic chaos. "Indian Banyan" looks like a portal into the spirit world.
"Dark Moon" on the other hand, is more subtle. It is an embodiment of less-is-more. "Egret", and "Dry Branch" also depict the simplistic charms of Irani's artistry whereas "Peacock" screams extravagance. "Garden", "Branch of Flower", and some more floral pieces show extraordinary use of French knots and chain stitches. "Madhobilata", as a contrast, is a sweet, light pink delight to the eye. Another piece, with little glittering, translucent and tissue fabric folded flowers, is "Marigold".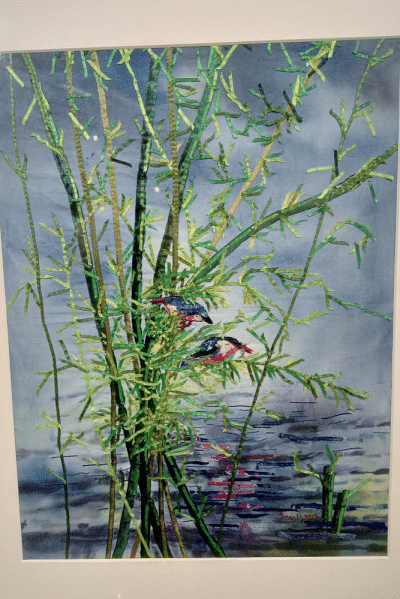 The herons in Irani's pieces look like they are about to fly out of the canvas. "Sparrow" shows a cosy bird couple made up of flowers and leaves. "Bird" is a patchwork masterpiece with brilliant colour combinations, and a clever use of printed fabric. For "Couple", Irani created two geese with felt in the ruins of a traditional house. The button stitches, the ribbons, the brushstrokes—everything is in perfect harmony.
The artwork exhibited in "Reflections" reveal Irani's beautiful mind and creative inspirations. Every frame in the gallery is like a window into a mystical, fantasy realm.
Gallery Chitrak will run this exhibition till Friday, September 30.