20 to get Shilpakala Padak this year
A total of 18 cultural luminaries and two cultural organisations will be awarded the Shilpakala Padak, for the years of 2019 and 2020, in recognition of their notable contributions to different creative arenas—such as vocal music, instrumental music, dance, film, fine art, dramatics, recitation, folk culture and photography.
The awardees of Shilpakala Padak 2019 are Mohammad Moniruzzaman (instrumental – flute), Lubna Marium (dance), Hasina Momtaz (vocal), Abdul Mannan (fine arts), Masud Ali Khan (dramatics), M A Taher (photography), Shamvu Acharaya (folklore), Hasan Arif (recitation), Anupam Hayat (film) and cultural institution Chhayanaut (creative cultural unit).
For Shilpakala Padak 2020, the selected cultural personalities are Shamsur Rahman (instrumental – shehnai), Shibli Mohammad (dance), Mahmudur Rahman Benu (vocal), Shahid Kabir (fine arts), Malay Bhowmick (dramatics), Shafiqul Islam Swapan (photography), Shah Alam Sarkar (folklore), Dahlia Ahmed (recitation), Shameem Akhtar (film) and Dinajpur Nattya Samity (creative cultural unit).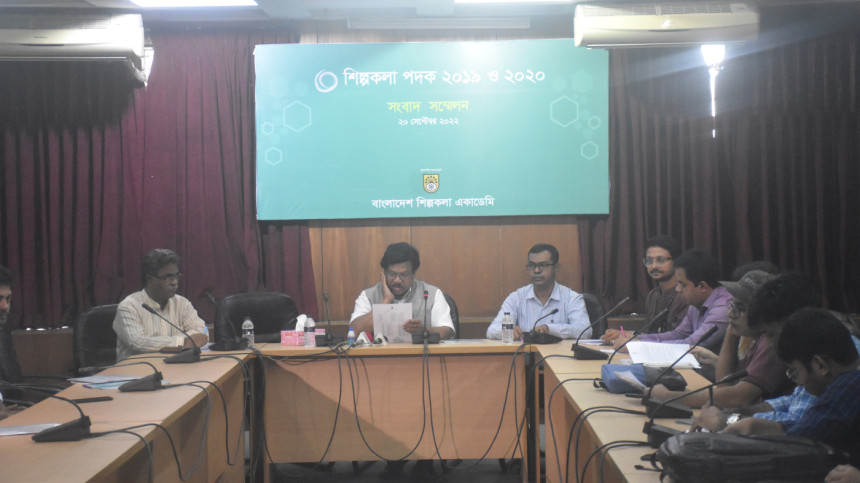 The State Minister of Cultural Affairs, K M Khalid, MP, will formally hand over the awards to the recipients on behalf of President Abdul Hamid, who will be virtually attending the event as the Chief Guest. The function will be held at the National Theatre Hall of Bangladesh Shilpakala Academy (BSA) at 4:30 pm on Thursday.
The Minister of Home Affairs, Asaduzzaman Khan and the Secretary of Cultural Affairs, Md Abul Monsur will attend the ceremony as special guests, while State Minister of Cultural Affairs, K M Khalid, MP, will preside over the programme. Director General of BSA Liaquat Ali Lucky will deliver the welcome address.
Following the discussion and award giving ceremony, artistes of BSA will perform at the event. 
A press conference was held today in this regard, at the seminar room of National Theatre Hall, BSA, where Liaquat Ali Lucky elaborated on the details of the award ceremony.
Each awardee will receive a cheque for BDT 1 lakh, a gold medal and a certificate.
A 16-member nomination committee—comprising of the Director General of BSA, secretary of BSA, six directors, seven cultural personalities and one representative from the Ministry of Cultural Affairs—selected the awardees.