Sharp rise in motorcycle accidents in 2020
When will road accidents be brought under control?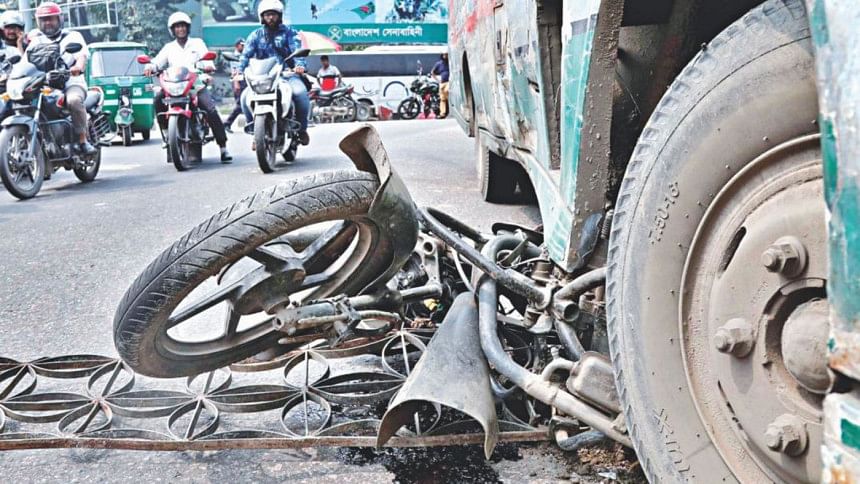 During a recent press conference held at Jatiya Press Club, Nirapad Sarak Chai revealed that according to their findings, nearly 5,000 people were killed and 5,058 were injured in 4,092 different types of accidents last year, including rail and riverine incidents. Even though there was a steady decrease in the number of road crashes largely due to pandemic-induced restrictions on public transport, motorcycle accidents witnessed a hike in 2020 compared to the previous year.
Among all the vehicles responsible for accidents, the highest 1,127 were motorcycles while 698 were buses, 931 were trucks and 410 were cars and jeeps, and the rest are other types of vehicles. According to data from the Bangladesh Road Transport Authority (BRTA), 17.53 lakh motorcycle licences were issued against 30.32 lakh registered bikes, meaning 12.79 bikers must be riding without a licence, making our roads unsafe. The rate of bike accidents were 19 percent in 2019 and went up to 27 percent in 2020. According to Nirapad Sarak Chai, lack of proper monitoring and management; non-implementation of the Road Transport Act 2018 and the 111 recommendations given by a committee for reducing road crashes; unhealthy competition among drivers and lack of awareness among pedestrians are among the reasons behind the rise in road accidents.
Our history with road accidents is appalling to say the least, and calls for the immediate attention of all concerned authorities to make all-out efforts and properly implement the Road Transport Act 2018. Besides, swift initiatives should be taken to create mass awareness campaigns. The practice of wearing helmets (for motorcycle riders) and refraining from talking on mobile phones while on the roads, must be strictly monitored. The number of skilled drivers need to be increased, road dividers must be constructed wherever required and service roads need to be built along highways for slow-moving vehicles. Correcting the faults in road designs will also prove beneficial for road safety. Only if we make every effort necessary to bring back discipline on our roads, will we be able to put an end to the unnecessarily loss of life from accidents on our roads.