Editorial
People left high and dry by medical bills
Experts blame our flawed healthcare system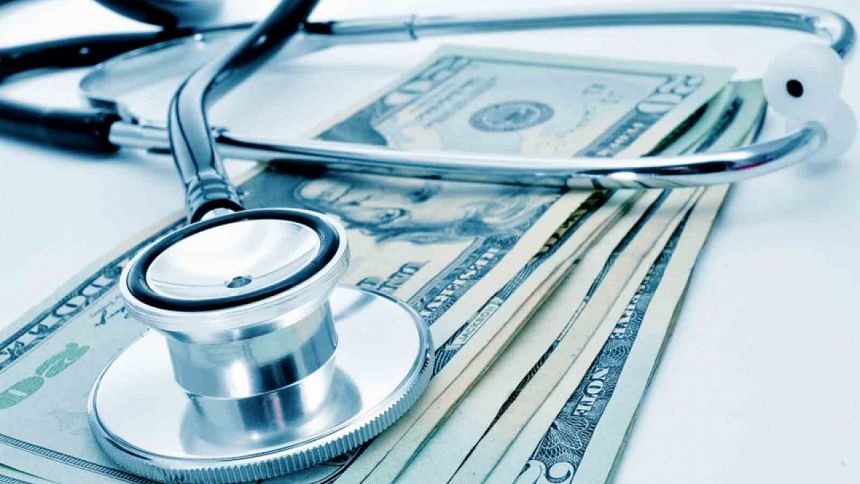 Rising healthcare costs have become a major cause of pushing people deeper into poverty. According to a 2015 study by the health ministry, out-of-pocket (OOP) health expenditure in Bangladesh is as high as 67 percent of the total healthcare cost—the global average is only 32 percent—and is the highest in South and Southeast Asia. Another study by the International Centre for Diarrhoeal Disease Research, Bangladesh found that OOP expenditures push four to five million people in the country into poverty every year.
Although the feeble state of our public healthcare system is mainly to blame for these alarming figures, what has become difficult also is accessing even that. Over 63 percent of households seek healthcare services from the private sector, according to Transparency International Bangladesh. And while a fraction of households does so willingly, the majority is simply forced into it because public hospitals are ill-equipped to treat various diseases and are often riddled with corruption. Even when they can treat patients, our public hospitals afford very little benefits compared to those in other countries. One example is the lack of free cancer medicines in all hospitals but one—opposite of what is standard practice in most countries. Aside from that, patients get further ripped-off by corrupt doctors, health workers, medicine sellers and brokers, colluding to squeeze every penny possible out from patients.
The government should fix the standard cost of critical tests and treatment so that patients no longer have to endure such abuses. It should establish specialised hospitals in all divisional states that treat non-communicable diseases which account for approximately 59 percent of total deaths in the country, and consider other measures that can give some relief to the population—especially the poorer sections of it—that is being overwhelmed by increasing medical costs.