Looking back at Sayeeda Khanum's legacy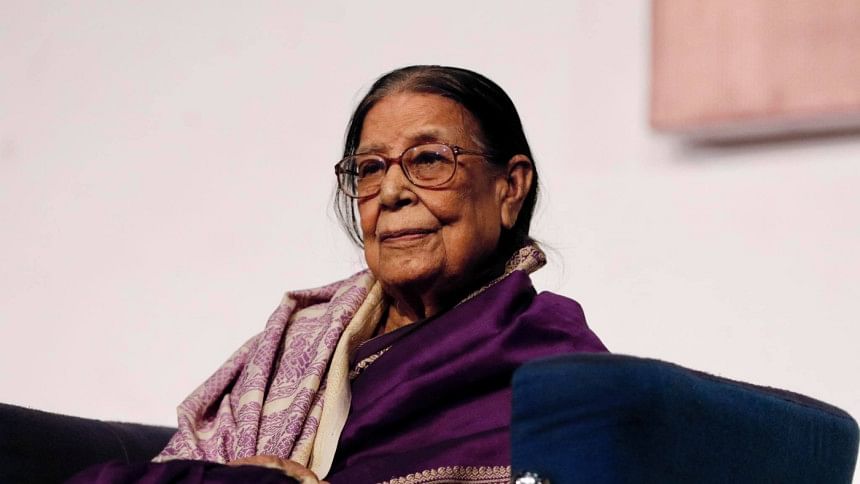 Bangladesh's first professional female photographer, Sayeeda Khanum, passed away on this day a year ago, due to old age-related complications. She was 82 at the time of passing.
Born in Pabna on December 29, 1937, Sayeeda Khanum's love for photography was instilled in her from the age of 12. Her maternal aunt, eminent poet Mahmuda Khatun Siddika, loved posing for pictures. Being her aunt's admirer, Sayeeda Khanum became acquainted with the camera from a young age.
Her first camera was a small Kodak box-camera, presented to her by Lutfunnessa Chowdhury, a close friend of her sister, eminent academic Hamida Khanam. From the time her sister gifted her a Rolleicord camera, she knew photography was her true calling.
 As a freelance photographer, she travelled from the streets of Dhaka and the studios of Kolkata to Karachi and Darjeeling, in search of the perfect shots. Sayeeda Khanum began her career as a photojournalist in 1956, with the periodical "Begum", being a member of the prestigious magazine for over fifty years. She also worked for the cine magazine, "Chitrali".
As the first female photojournalist in East Pakistan (present-day Bangladesh), Sayeeda Khanum followed her passion for photography at a time when it was an unconventional career path for women, defying naysayers.
"Except for a few, most of my contemporary male photographers did not like the fact that a woman worked alongside them," she had said with a smile, during a 2016 interview with The Daily Star.
As a master's graduate of Bangla Literature and Library Science from University of Dhaka (DU), Sayeeda Khanum, a lifetime member of Bangladesh Mahila Samity and Bangla Academy, also wrote a number of books, articles, and literary pieces. She worked as a librarian in the seminar library of the Bengali Literature Department of DU from 1974 to 1986. After the Liberation War, she volunteered as a nurse in Holy Family Hospital for a while. Her photographs travelled different galleries around the world.
She had the rare opportunity of taking pictures of Bangabandhu Sheikh Mujibur Rahman, National poet Kazi Nazrul Islam, Shilpacharya Zainul Abedin, Queen Elizabeth II, Mother Teresa, Neil Armstrong, Edwin Aldrin, Michael Collins and Satyajit Ray, among many other famous personalities.
"S M Parvez, Editor, Chitrali, had warned me about Satyajit Ray's frequent mood swings. But I visited the maestro in his house in Kolkata. I wholeheartedly believed that the director who could make Pather Panchali would not ignore someone who came all the way from Bangladesh to interview him," she had told The Daily Star in 2016. Surprisingly, Sayeeda Khanum not only got an exclusive interview from Ray but also became his family friend. She organised three solo exhibitions and wrote the book, Amar Chokhe Satyajit, from her volumes of work on him.
Throughout her illustrious career, she bagged a number of national and international awards – she obtained the first position in the All Pakistan Photo Contest in 1960, the UNESCO Award in 1985 and the Ananya Shirsho Dosh Award in Dhaka, among others. She was awarded the Ekushey Padak in 2019.
Sayeeda Khanum touched upon significant chapters of the visual history of Bangladesh through her talents. Her creations will forever remain a source of inspiration for the present and aspiring photographers of future generations.