Madrasa teacher mercilessly beats child in Hathazari, parents against legal action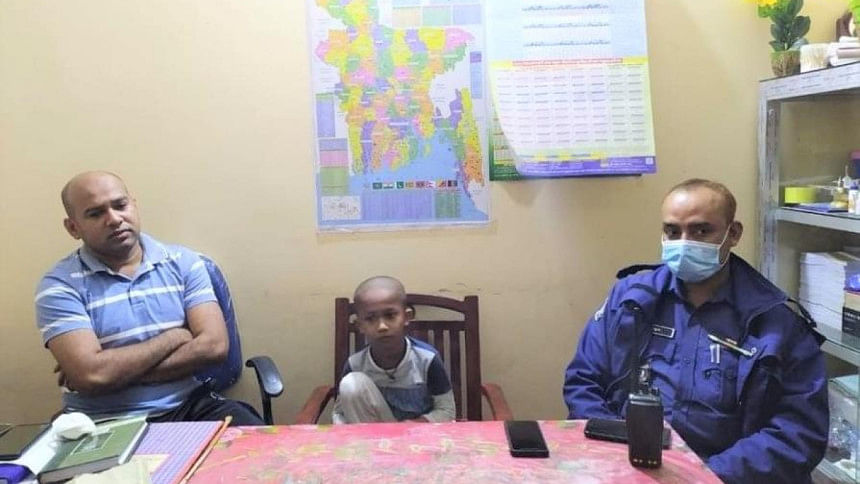 An eight-year-old madrasa student was seen being mercilessly beaten up by his teacher yesterday in a video that went viral on social media last night and drew flak from netizens.
The incident happened at Markazul Islami Academy Hafezia Madrasa in Hathazari Sadar upazila. The Hathazari upazila administration, after being informed of the matter, rescued the student and detained the teacher from the madrasa earlier today.
Following the incident, the madrasa authorities sacked the teacher from the institution, our staff correspondent in Chattogram reports.
In the 33-second video, the teacher Maulana Yahya was seen dragging the student, Yasin, while grabbing his neck and entering a room. Later, he started mercilessly beating up the student with a cane, asking why he went outside the madrasa.
"After the video of the beating went viral on social media platforms, we immediately went to the madrasa with police and rescued the boy around 12:45am today. We also detained the accused teacher," said Ruhul Amin, upazila nirbahi officer of Hathazari.
"Yasin's parents also came to the madrasa last night. But after meeting with the madrasa authority, they decided not to lodge any complaint and requested not to take any legal action against the teacher," the UNO added.
"It was his (Yasin's) birthday yesterday. We gave him some toys as gift, marking his birthday," said Ruhul.
"We will hold a meeting with all the teachers of the madrasa so that they follow the ministry's instruction while teaching these innocent children. If anyone violates the order, they will face the music," he added.
Police are preparing to file a case against the madrasa teacher for his unruly act, said the duty officer of Hathazari Police Station.
The teacher is in police custody, he added.