Workers rally on May Day in Dhaka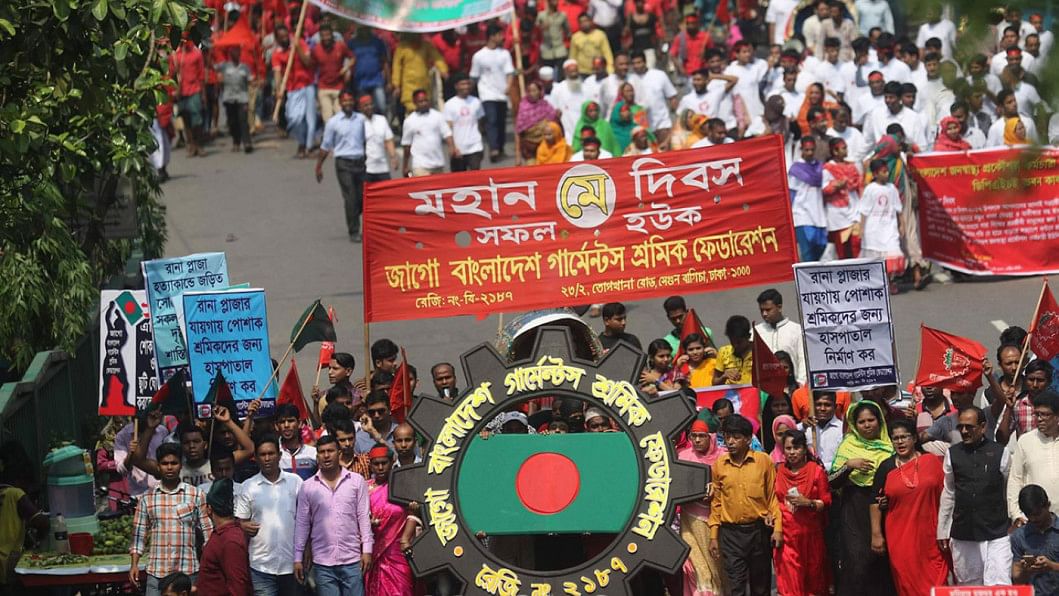 Amid a growing demand for a new salary structure for workers and ensuring their justified rights, the historic May Day was observed in the country today.
May Day, also known as International Workers' Solidarity Day, commemorates the historic uprising of working people in Chicago, USA at the height of a prolonged fight for an eight-hour workday.
The day is a public holiday.
Trade unions and Readymade Garment (RMG) workers organisations have taken out elaborate programmes to mark the day and press home their demands.
The day will also be observed across the globe with a pledge to establish the rights of workers.
Besides, other trade unions and professional groups and socio-political organisations have taken up various programmes to observe the day and press for improving the working conditions with better wages and security for the workers. The programmes include discussions, rallies and processions.
Newspapers have published supplements while radio and television channels have been airing special programmes highlighting the significance of the day.
Meanwhile, President Abdul Hamid and Prime Minister Sheikh Hasina issued separate messages greeting the working class people of the country and wishing their overall welfare.
They also wished a success of all the May Day programmes.
On May 1, 1886, 10 workers were killed when police opened fire on a demonstration in the US city of Chicago near Hay Market demanding an eight-hour working day instead of a 12-hour shift. On the height of agitation, the authorities had to accept the workers' demand and the eight-hour day has been introduced universally.
On July 14, 1889 in Paris, an international workers' rally declared May 1 as the International Workers Solidarity Day in recognition of the Chicago workers' sacrifice and achievement and since 1890, the day has been observed globally as the International Workers Solidarity Day.