Traders exploit Rohingya refugees: 7 cows sold at Tk 8000
Last Tuesday, when we went to the Bangladesh-Myanmar border area to cover news of Rohingya refugees in Ghumdum of Ukhia, we came across a small border bazaar (local market) full of cattle. What amazed us were the price tags of the cows -- most of them were being sold at Tk 10,000 to Tk 15,000.
But elsewhere in the country, one should not expect to buy a standard cow for a price anywhere below Tk 30,000. How come these cows are being sold at such cheap rates?
After asking a few people, the reason became clear: most of these cows and goats came into the country with the fleeing Rohingya refugees who were persuaded or tricked into selling their animals for unbelievably low prices.
"I brought 7 cows from my home -- I had to sell these for only Tk 8000," said Moazzem Hossain, 35, at Ghumdum Bazar.
But Moazzem was not in a position to find a good price. The local traders and touts have all united on buying these animals for as low a price as possible and not offer any reasonable prices.
They tell the hapless refugees that their animals were ill or unhealthy—if they do not sell them fast, they would die and become worthless. On the other hand, the refugees urgently need the money.
Another refugee Shamsul Alam was however much luckier. Sitting near the bazaar and staring at the animals that he sold to a local trader, Alam told The Daily Star that he got Tk 7000 to Tk 8000 for each of his cows—which were all healthy and on the larger side. 
This correspondent met many Rohingya refugees at Tambru border of Ghumdum in Naikhongchhari, Kutupalong, Tangkhali, Balukhali and other places—who were forced to sell their animals for unbelievably low prices.
Then there are refugees like Mohammad Ali, who had all his luck turned against him. Mohammad Ali used to have a reasonably well-off life back in Maungdaw district of Rakhine State, Myanmar. But when all hell broke loose, Ali had to flee from his home along with his large 16-member family.
Ali could manage to bring with him only two of his cattle, clothes, some utensils and some money. The family walked for four days through the Myanmerese forests and hills and finally crossed the Naf river and landed on Shah Pori Dwip on September 7.
"We paid Tk 7000 per person to brokers in Myanmar just to cross the Naf river," said Ali, 50, while talking to this correspondent. Ali even had to pay for the two animals.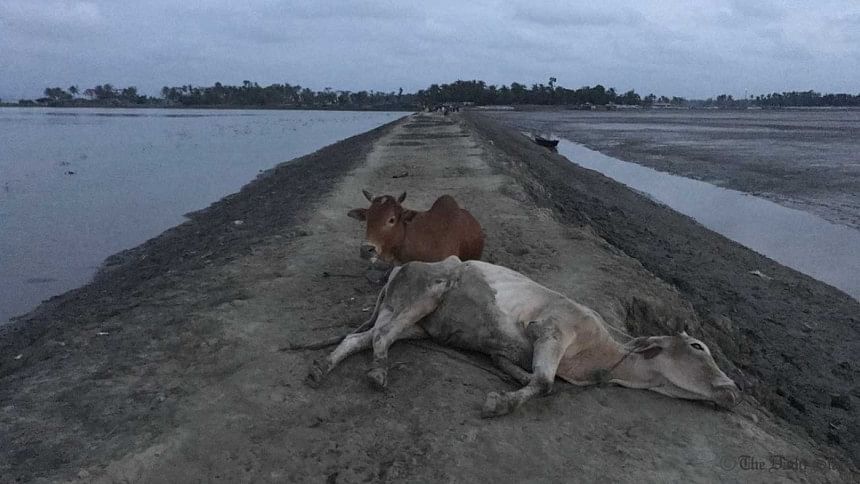 Unfortunately, the journey took a toll on the poor cows. One of them died upon arrival there, and the other became so sick that the family tearfully left her at the entry of Shah Pori Dwip—as the image above shows.
But even if the cows were healthy enough, Ali would perhaps face exploitation of local traders and brokers—forcing them to sell the cows for unimaginably low prices.