Rape victims doubled in 2019: ASK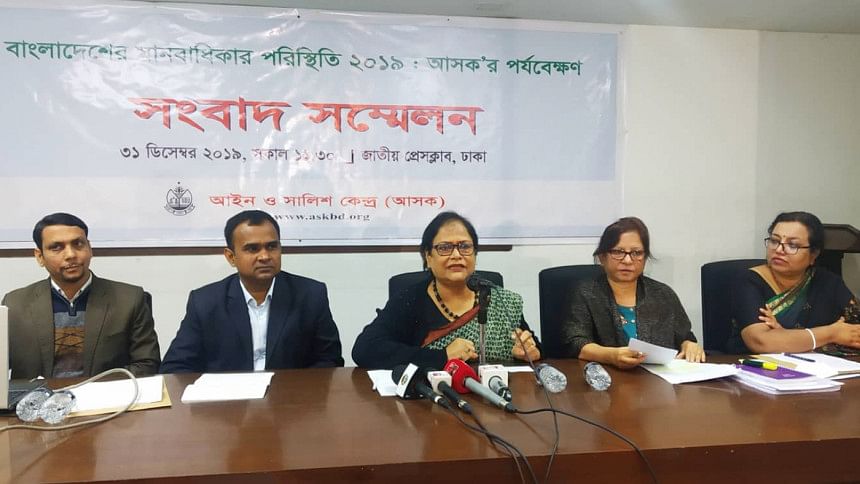 --76 women killed after rape
--258 women sexually assaulted
--18 women killed themselves after sexual harassment
-- 487 children killed
--142 journalists face repression
--39 killed, 2,689 injured in 209 political violence
-- 65 killed by mob beating
The number of rape victims in the county has doubled in 2019 than that of 2018.
A total of 1413 female were subjected to rape in 2019. Of them, 76 were killed after rape while 10 others victims killed themselves, rights body Ain o Salish Kendra said at its annual report released at a programme at Jatiya Press Club today.
The reported number of the rape victims were 732 in 2018 and 818 in 2017, it added.
Various issues including sexual harassment, child torture and women violence were also narrated in the report, which was extremely alarming this year.
The rights body published the report titled "Human Rights Situation of Bangladesh in 2019: Review of ASK".
ASK Executive Director Sheepa Hafiza, its senior Deputy Director Nina Goswami, senior coordianotr Abu Ahmed Faijul Kabira, among others, addressed about the report.
According to the report, as many as 258 women were sexually assaulted this year, 85 more than the previous year.
Eighteen women killed themselves, while 17 people, including four women, were killed in attacks for protesting such incidents.
The death of madrasa student Nusrat Jahan Rafi was one of the fatal incidents of this year. On April 6, Nusrat was set on fire when she went to the madrasa to sit for an exam in the madrasa building.
CHILD TORTURE AND KILLING
A total of 487 children were killed in different reasons including physical torture, killing after rape, murder to fail rape attempt, kidnap and missing. The figures were 419 in 2018.
A total of 37 boys were raped this year.
REPRESSION ON JOURNALISTS
As many as 142 journalists faced repression and assaults by law enforcers, influential people, local representatives, criminals, political activists and government officials while performing their duty. The number was 207 in 2018 and 122 in 2017.
POLITICAL VIOLENCE
At least 39 people were killed and 2689 people injured in 209 political clashes in 2019. The clashes took place between law enforcers and different political parties, Ruling party members and opposition parties and intra-party conflicts of different political parties.
On June 26, Rifat Sharif, 25, an internet service provider, was hacked to death in broad daylight in front of his wife Minni's college in Barguna town.
At least 34 people were killed in political violence in 2018.
MOB BEATING
According to the report of ASK, a total of 65 people were killed by mob beating on suspicion of being child kidnappers.
Incidents of mob beating have increased even after the bridges authorities on July 9 issued a warning against the spreading of rumours about the Padma Bridge authorities needing to sacrifice people at the construction site.