World Humanitarian Day: UN recognises 4 Bangladeshi youths as Real Life Heroes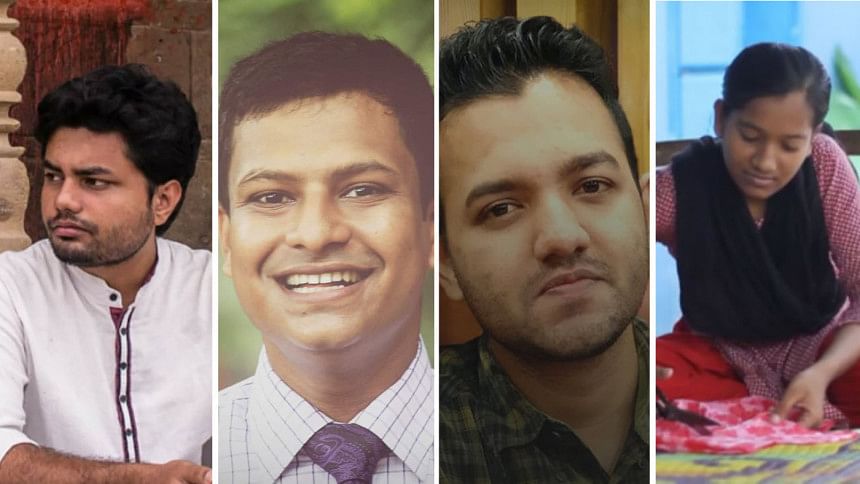 The United Nations has recognised four Bangladeshi youths as "Real Life Heroes" to acknowledge their contribution to humanitarian services. The honours were given by the UN marking the World Humanitarian Day on August 19.
The four are architect Rizvi Hassan, Dhaka University student Tanbir Hasan Shaikat, translator Sifat Noor and mask-maker Akhi.
Bangladeshi architect Rizvi Hassan was recognised as being the driving force behind the construction of a safe space for Rohingya women and girls in Cox's Bazar, the world's largest camp for displaced people, and home to around a million Rohingya refugees who fled from Myanmar, the UN said in its website.
Dhaka University student Tanbir Hasan Shaikat, also former member of Dhaka University Central Students' Union and president of Bangladesh Post Friends' Forum, was recognised for his food pragrmmes targeting people from marginalised and vulnerable groups.
Shaikat took the responsibility of providing food to 500 to 1,000 homeless and destitute people at Dhaka University campus for 116 days amid the Covid-19 lockdown.
Afterwards, he assisted those affected by flood in various areas. Students, teachers and people from diverse professions contributed financially to help him continue this service.
The UN, in its website, said, "In the story of the television and cinema we watch many heroes who sacrifice themselves for the service of humanity but Tanvir Hasan Saikat has worked as a true human hero in real life."
Meanwhile, Sifat was recognised as a humanitarian hero for his work in translating critical, potentially life-saving information into Bengali, so more people have the information they need to lead safe, healthy, and informed lives.
Since starting Translators without Borders in March 2020, Sifat has translated over 115,000 words into Bengali for the organisations such as IFRC and UNHCR Bangladesh. Recently, his work translating Covid-19 information helped more people keep themselves and their families safe from the virus, said the website.
Akhi, a girl who was rescued from hazardous child labour by World Vision, was recognised as a real life hero as she decided to make masks at time when they were not available in the market while Covid-19 was spreading in the country, it said.
Akhi sells her masks at a low cost so that the poor can afford them, the website said.
The United Nations said on its website that this year, Covid-19 has been the biggest challenge to humanitarian operations around the world.
"We are paying special tribute to the real-life heroes who have committed their lives to helping others in the most extreme circumstances throughout the world," it said.
"Therefore, the campaign presents the inspiring personal stories of humanitarians who are treating and preventing Covid-19, providing food to vulnerable people in need, providing safe spaces for women and girls in lockdown; delivering babies; fighting locusts and running refugee camps, all amid the Covid-19 pandemic."