'Repair embankments damaged in Cyclone Amphan on urgent basis'
NGOs urge govt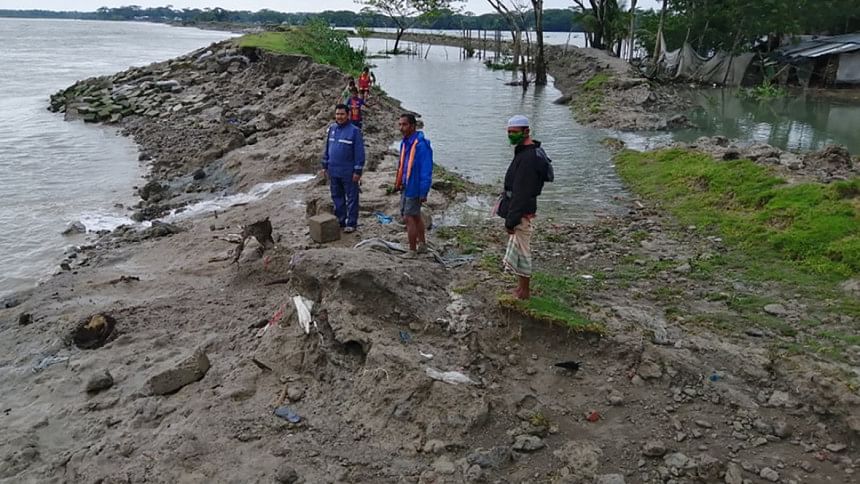 National and local NGOs working in coastal areas today asked the government to repair embankments damaged in Cyclone Amphan on an emergency basis to save crops in the upcoming monsoon.
Local government authorities should be tasked with repairing embankments and their permanent maintenance in future, the NGOs said.
They also urged an overhaul of cyclone signal systems and construction of shelter-housing facilities in areas vulnerable to cyclone.
The NGOs which work on coastal belts from Satkhira and Cox's Bazar raised the demand during an online press conference titled "Cyclone Amphan and Emergency Construction of Embankment to Protect Next Crop and Fish Resources in Coastal Area."
COAST Trust, a Dhaka-based national NGO, facilitated the conference, according to a press release issued to media.
Presenting a keynote paper, Syed Aminul Haque of COAST Trust said about 150 kilometers of embankment was damaged during Cyclone Amphan.
He said an immediate allocation of Tk 400 crore was required to repair the embankments.
Aminul also said that local government should be assigned to do this emergency construction and Water Development Board (WDB) can provide technical assistance. Discussing about the worst-hit districts, Aminul further said Khulna and Satkhira are the worst-hit.
The cyclone also caused agriculture damage on 2 lakh hectares of land, shrimp culture damage worth Tk 340 crore, and livestock loss of Tk 140 crore.
Sheikh Asad of Udayan Bangladesh, a Bagerhat-based NGO, claimed WDB and local administration repeatedly failed to construct embankment on time because of their "contractor and sub-contractor system".
Ziaul Haque Mukta of Campaign for Sustainable Rural Livelihoods alleged WDB failed to construct embankment on time after cyclone Aila due to their management complicacy, even though there was the prime minister's intervention.
Noted climate expert Prof Ainun Nishat said meteorological department should be shifted under science and technology or disaster management ministry instead of the defense ministry.
He said the present government's approach is mostly "relief approach" in respect to cyclone management but it should rather be "disaster risk reduction approach".
Moderating the press conference, Rezaul Karim Chowdhury of COAST Trust said government institution like WDB need reform and that "ownership" of embankment should be given to local people.
He stressed for mobilising the country's own resources for disaster management instead of relying on foreign funds.
Rafiqul Alam of Dwip Unnayan Sangsta, a Hatiya-based NGO, said the country's cyclone signal system is still from the colonial era.
"The system is tailored to protect ports instead of saving people's lives," he said.