PM Hasina expresses interest in joining under-construction India-Myanmar-Thailand highway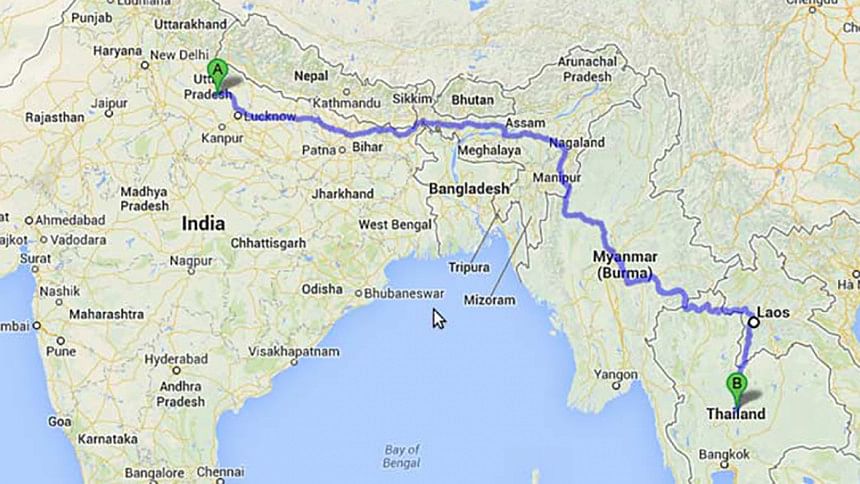 Bangladesh Prime Minister Sheikh Hasina today conveyed interest in joining the under-construction India-Myanmar-Thailand highway.
Hasina voiced Dhaka's interest in the trilateral highway during her virtual summit with Indian PM Narendra Modi.
She "expressed keen interest in the ongoing India-Myanmar-Thailand trilateral highway project and sought support of India for Bangladesh to connect with this project with a view to enhance connectivity between the regions of South and South East Asia," said a joint statement issued post-summit.
"In the same spirit, the Indian side requested Bangladesh to allow connectivity from West Bengal (Hilli) to Meghalaya (Mahendraganj) via Bangladesh," it said, our New Delhi correspondent reports.
Hasina and Modi took stock of the ongoing bilateral connectivity measures and welcomed the recent initiatives including the signing of the second addendum to the Protocol on Inland Water Transit and Trade (PIWTT), trial run of trans-shipment of Indian goods from Kolkata to Agartala via Chattogram and operationalization of Sonamura-Daudkandi Protocol route under the PIWTT.
Both the leaders agreed to expeditiously operationalise trans-shipment of Indian goods through Chattogram and Mongla Ports.
To facilitate better connectivity and simplify movement of passengers and goods between both the countries, the two PMs agreed to an early operationalisation of the Bangladesh-Bhutan-India-Nepal (BBIN) Motor Vehicles Agreement through expeditious signing of a Memorandum of Understanding (MoU) for Bangladesh, India and Nepal to commence the movement of goods and passengers with a provision for Bhutan to join at a later date.
Bangladesh also requested the Indian side to resume regular travel through land ports at the earliest.
Sheikh Hasina today also said her country expected to see India, as a non-permanent member of the UN Security Council, to assist in the repatriation of Rohingyas to Myanmar.
"Prime Minister Narendra Modi appreciated the generosity of Bangladesh in sheltering and providing humanitarian assistance to the 1.1 million forcibly displaced persons from the Rakhine State of Myanmar. Both Prime Ministers reiterated the importance of their safe, speedy and sustainable return," said a joint statement issued by the Indian External Affairs Ministry after the summit.
It said Prime Minister Sheikh Hasina congratulated India on its election as a member of the United Nations Security Council.