Most Bagerhat prawn hatcheries close down due to larvae scarcity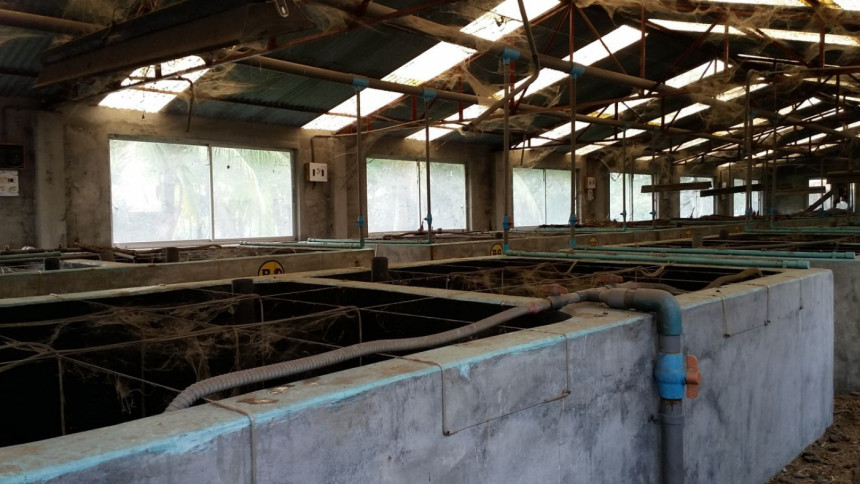 Acute larvae scarcity coupled with excessive salinity and ammonia in water have forced almost all prawn hatcheries in Bagerhat to close their business.
Hatchery owners said on one hand the government has imposed ban on collecting prawn larvae from rivers, while on the other, larvae collected from outside sources are dying after hatching due to rise in the level of salinity and ammonia in water.
Moreover, the larvae collected from unreliable channels, especially from the neighbouring country, are infected with germs and those are also dying soon after hatching.
The situation is causing prawn hatcheries to incur huge losses and many owners have either shut down their hatcheries or switched to other trades.      
Ashok Kumar Das used to be the manager of Rainbow Hatchery in Badamtala area of Kachua upazila. Being forced to close the hatchery, the owner now has started to grow carp fish at the plant, said Ashok. 
District Fisheries Officer Amal Kanti Roy said one third of the country's total prawn production comes from Bagerhat.
According to the department, as many as 40,000 prawn farmers depend on 49 thousand prawn enclosures on 19 thousand hectares of land in the district, he said, adding that hatcheries in Bagerhat need 21 crore larvae each year.
Wazad Mollah, caretaker of Rainbow Hatchery, said they now rear fish, ducks and cattle at the shed of the plant.
In 2015, the firm suffered a Tk 6-crore loss after larvae in the hatchery died due to unknown germ attacks and also due to high ammonia and salinity in water.
BRAC Prawn Hatchery also had to shut down two of its plants due to losses caused by similar hindrances, said its manager Hosne Azam.
Tilapia fish is now being cultivated in one of the plants, he added.
Prawn larvae trader Gopal Das said he used to sell larvae collected from both rivers and hatcheries.
Now his business is in a fix as the larvae are not available from the local hatcheries, while there is a government ban on catching larvae from rivers, he said frustratingly.
Amal Kanti Roy, district fisheries officer, confirmed that the hatcheries in the district are closing down due to "attack of unknown germs" and rise in ammonia and salinity in water.
He advised prawn farmers to collect safer larvae from hatcheries in other districts for better results.