Kamrul's success in dragon fruit farming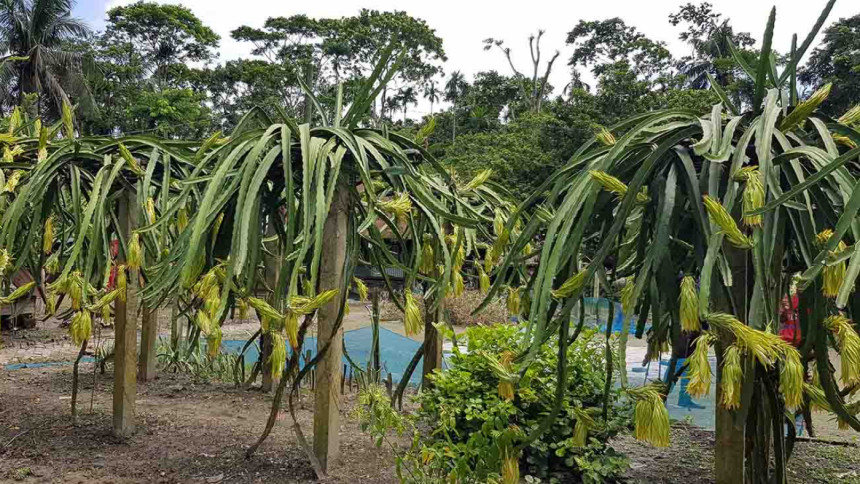 Many people at Sialkanthi village in Bagerhat's Kachua upazila are now following a youth's footsteps as he has successfully cultivated dragon fruit for the first time in the upazila.
Kamrul Islam, a resident of the village, has earned Tk 50,000 by selling the dragon fruits. With a hope of earning more profit, he has recently started cultivating the fruit on two more acres of land.
The pink colour fruit hangs from a cactus like plant and contains many vitamins, said the 35-year-old youth.
Seeing the success of Kamrul, a number of youths in the area have been showing interest in dragon fruit farming.
Kamrul said he planted some saplings of the fruit, which he got from his elder brother in 2017. His brother, who lives in Chattogram due to his job, brought the saplings from the port city.
He added that it gave him immense pleasure when he saw that the plants bore fruits in six months. Following the advice of the Department of Agricultural Extension (DAE) in the district, he then planted some more saplings of the dragon fruit in 2018 and later added around 120 more plants on his three-decimal orchard creeping over 20 poles. Tk 75,000 was spent for cultivation of the fruit.
At the end of 2019, he has already earned Tk 50,000 by selling some of the fruits and hopes to sell the remaining fruits for around fifty thousand taka this current year, said Kamrul, adding that after seeing success on experimental basis, he was planning to expand his farm.
He has recently planted 3,200 saplings on two acres of land creeping over 800 poles, spending Tk eight lakh, said Kamrul.
He further said two labourers work at his dragon fruit orchard every day. There is no need to use much fertilizer in dragon fruit cultivation. It needs TK 5,000 to Tk 6,000 per month to clean the weeds, irrigate and spray the fungicides.
Many people of the area have already come forward to start dragon fruit farming, he added.
Day labourers -- Ruhul and Saiful-- said they work at the dragon fruit orchard of Kamrul throughout the year. After seeing his success, many people are now showing interest in dragon fruit farming. It is very profitable and production cost is low as well.
After seeing the success of Kamrul, one Alamgir and Imtiaz in the area who started dragon fruit farming said they were surprised to see the ripe and unripe fruit hanging from the trees at the orchard of Kamrul.
The duo further said that the fruit also fetches a good price. Per kg of dragon fruit has been sold at Tk 300 to Tk 600 this year. Following the advice of Kamrul and Kachua upazila agriculture officer, they have also started commercial cultivation of the dragon fruit.
They hope that this will make them financially independent.
Bagerhat DAE Deputy Director Raghunath Kar said the dragon is a money-spinning nutritious and delicious foreign fruit. Due to this, there is a huge demand for this fruit in the world markets including Bangladesh.
The DAE official also said the youth, Kamrul Islam, started commercial cultivation of the fruit for the first time in Kachua upazila. The dragon fruit is now being cultivated on 10 acres of land in different areas of Bagerhat as it is a profitable item.