Helping defaulters secure loans with fake NIDs: 5 including election office operators arrested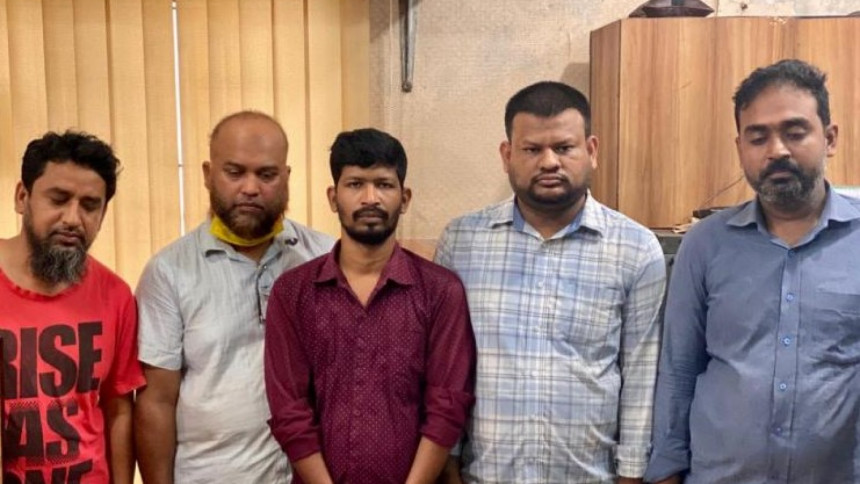 They are data entry operators of election offices.
Having the access to the NID database server, they -- in collusion with some others -- created a gang that provide fake National ID cards, helping defaulters secure bank loans using those.
The two operators used to enter the fake ID in the central NID database, making it difficult for the banks to identify the loan defaulters.
Detectives shared the information after arrest of five members of the gang, including the duo, arrested yesterday. Twelve fake NID cards were found in their possession.
They were arrested during a drive at Mirpur Zoo area around 8:30pm, said Razib al Masud, deputy commissioner (Lalbagh Division) of detective branch of Dhaka Metropolitan Police.
The arrestees are: Siddharth Shankar Sutradhar (32) and Mohammad Anwarul Islam (28), data entry operators of Khilgaon and Gulshan election offices; Suman Parvez (40), Mohammad Majid (42), and Abdullah Al Mamun (41).
Following their arrest, Siddharth and Anwarul were suspended from their posts by the Election Commission's Identification System for Enhancing Access to Services (IDEA) project, EC said today.
Brig Gen Saidul Islam, director general of the National Identity Registration Wing of EC, has ordered to form a committee to investigate the two data entry operators' alleged involvement in providing fake NIDs.
If they are found guilty, they will be terminated from their posts and legal steps will be taken against them and anyone else involved in this connection, the NID Wing DG warned.
According to detectives, arrestee Mamun so far took loans of nearly Tk 20 lakh from two private banks with the fake NID provided by the gang.
Besides, the arrestees told detectives that using fake NIDs, one Milton took loan of Tk 3 crore from a bank, Yeasir Tk 10 lakh, Saleh Ahmed Tk 15 lakh and Abdul Majid Tk 20 lakh from different banks.
DB assistant commissioner Madhusudan Das said Siddharth and Anwar were outsourced three years back and since then they are involved in the crime.
During primary interrogation, the arrestees admitted that they have so far prepared at least 40 such NID cards.
The operators used to make entry of the dual and fake NIDs in the NID database and it takes at least one month to report the dual NID. By this time, the fake NID card holders used to apply to get bank loans, Madhusudan, who led the drive, said.
Suman used to approach clients, mostly loan defaulters, as they could not apply for loans with previous NID cards, DB officials said.
According to detectives, Suman and Majid used to take Tk 60,000 to Tk 1 lakh from each client and made a deal of taking 10 percent  of the total loan amount once it was approved by respective banks.
Siddhartha and Anwar used to charge Tk 35,000 to Tk 40,000 for making each fake NID card.
A case has been filed against them at Mirpur Police Station and detectives are trying to arrest others.
Mohiuddin Alamgir contributed to the report