Indomitable March
Forgotten graveyard for unforgettable war heroes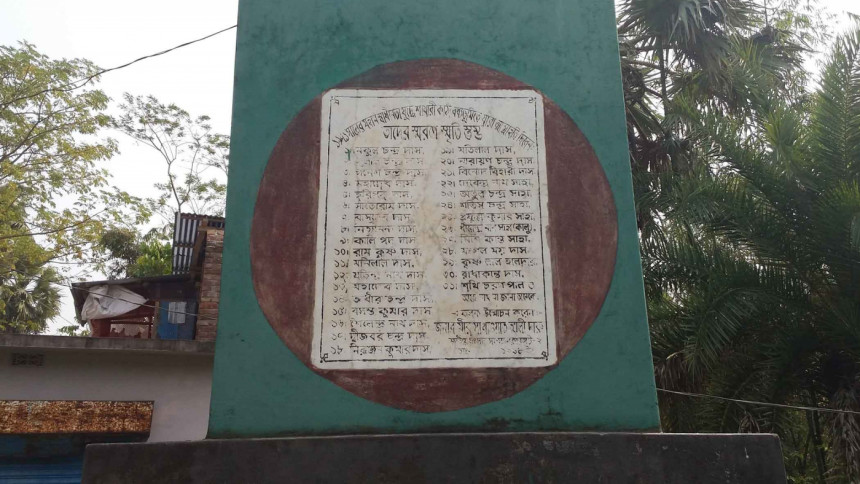 A 1971 mass graveyard remains in shabby state due to lack of maintenance by authorities concerned in Shakhari Kathi village of Bagerhat's Kachua upazila.
In the graveyard, the then government in 1996 constructed a memorial plaque bearing the names of 31 martyrs.
Now, the names of the martyrs have become faded and plasters have started decaying in the concrete plaque.
As there is no boundary fence, people are now using the graveyard as a motorcycle parking yard and waste dumping place. Even, farmers now use the graveyard as cattle rearing space, said locals.
Freedom fighters and family members of the martyrs expressed their frustration over it and demanded government's immediate measure to preserve the graveyard.
"If the memorial cannot be preserved, it will be destroyed. The next generation will forget the heinous killing by Razakars and sacrifices of our valiant freedom fighters," said Nimai Chandra Das, 69, a freedom fighter, who now lives at Raghudautta Kati village under the same upazila.
He was an eyewitness of the heinous killing in Shakhari Kathi Bazar.
"In the afternoon of November 5, 1971, Razakars raided Shakhari Kathi Bazar and captured at least 42 people. Then, the killers tied people's hand, kept standing in row and opened fire," he was describing the incident.
Another eye witnesses Akkas Uddin Zamadder, 60, of Alokdia village in the same upazila, said the 42 bodies were kept in two boats. Then, the bodies were taken to Ramchandrapur which now popularly known as the Char of the Biskhali river. The bodies were buried in a pit there.
Monilal Das was one of the victims of the mass killing.
His son Ananda Lal Das said, "As a family member of a martyred freedom fighter, we did not get anything from the government. Our only satisfaction is that my father's name has been inscribed in the memorial plaque. But now, it is also decaying. We want immediate preservation of the graveyard and the memorial."
Contacted, Kachua Upazila Nirbahi Officer Sujit Debnath said a process remains underway to construct a monument and to preserve the graveyard area covering around 20 decimals of land.