Farm fish in Bagerhat dying as water level falls
Farmers hesitating to sell mature fish as prices low during Covid-19 shutdown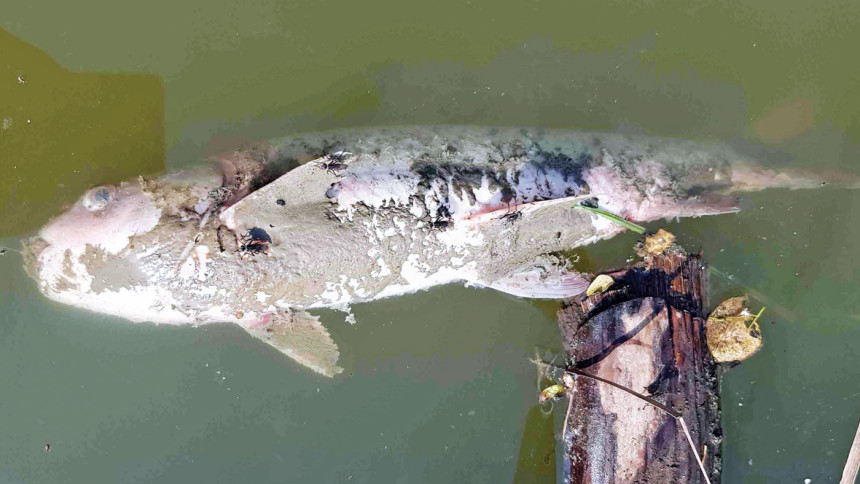 Cultivated fishes including carp and shrimp in a number of enclosures in Bagerhat are dying due to scarcity of water amid the hot weather prevailing for the last couple of weeks.
There is no way to prevent the situation if there is not sufficient rain soon as conventional medicines are not working, fisheries officials say.
Thousands of people in the coastal district depend on fish farming for their livelihood.
Officials have suggested selling out the already matured fishes, especially the large ones, to minimize the loss but many fish farmers are hesitating as the price is low amid the shutdown during the Covis-19 situation.
"As the white carp of my fish enclosure started dying several days ago, I applied some medicines including oxygen tablets but to no effect," said Rustam Ali of Narendrapur village of Kachua upazila.
Thousands of fish farmers of Bagerhat Sadar, Kuchua, Rampal, Mongla, Chitalmari and Mollahat upazilas are facing the same problem as they kept matured fish in enclosures for weeks to sell for good profit during the month of Ramadan.
"I failed to prevent death of fish by using the various medicines. As I went to the fisheries officer, he suggested selling out the fish soon, or arrange a shade over the enclosure and bring water into it from the canal or river with a machine," said Hakim Sheikh of Nawapara village of Sadar upazila.
But there is hardly any scope for bringing water with machine as canals and rivers have dried too, said several farmers of Sangdia and Afra areas in Kachua upazila.
Bagerhat District Fisheries Officer Dr Khaled Kanak said the water levels in the fish enclosures see drastic fall due to a less rainfall during the ongoing summer.
"As a result, fish are dying and most of the surviving fish in the enclosures became weak. As oxygen tablets or conventional medicines available in the market are not working, the only way to save the fish is to supply water by machine or any other method," he said.
He advised the farmers to sell out the big fish from the enclosures.