Dinajpur litchi growers happy with good yield, fair price
To minimise risk during the Covid-19 pandemic, many buyers place orders over mobile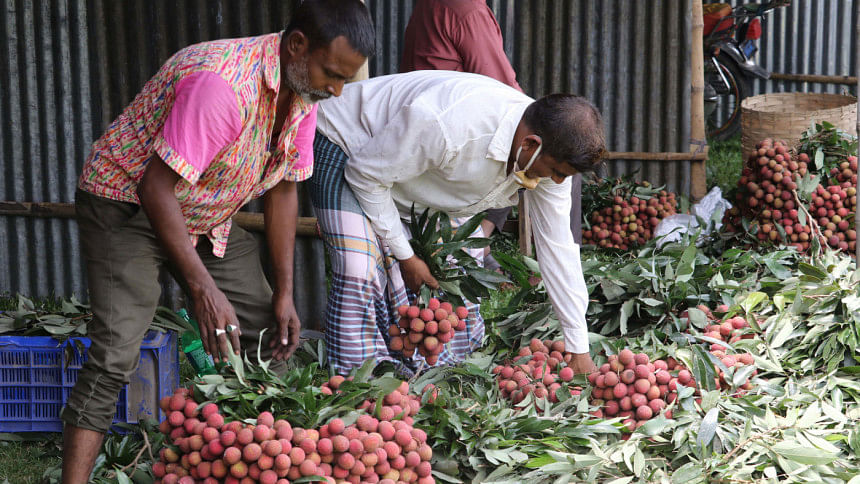 Litchi is selling for good prices after it hit the market a week ago, much to the happiness of growers and traders who had earlier feared price fall of the popular summer fruit amid the outbreak of Covid-19 pandemic.
This year, the famous litchi producing district's largest market shifted to spacious Boro Math (beside the office of the superintendent of police) in Dinajpur town, and so, the buyers and sellers can maintain safe distancing.
Earlier, the regular litchi market lasting around 40 days was held at a relatively small place in front of Dinajpur Police Station.
Litchi is grown in all the 13 upazilas of Dinajpur and most gardeners bring the fruit to the market for sale while it is also sold in truckloads directly from orchards, said growers.
In Dinajpur, there are around 4,000 litchi orchards covering 5,200 hectares of land.
Officials of the Department of Horticulture said litchi production in the district reached 50,000 tonnes although the target was 35,000 tonnes.
All five varieties of litchis including Bombai, Madrazi, China-1, 2 and 3 and Bedana started arriving the newly set up market.
During a visit to Boro Math in Dinajpur town on Thursday, this correspondent found the litchi market buzzing with a large number of sellers and buyers.
There 100 pieces of Bombai litchi is sold between Tk 230 to 350, Madrazi between Tk 150 to 200, China-3 between Tk 400 to Tk 700, and Bedana variety at Tk 500 to Tk 1000, depending on quality and colour.
Initially, the price was not good, but later it started rising, although arrival of wholesale buyers from other districts came down to half this season, possibly due to coronavirus pandemic, said Ashraf Ali, a trader.
"Every year, a large number of wholesale buyers come from Dhaka, Sylhet, Chattogram and Barishal, but most of them did not come this time. Many of them are now placing orders over mobile," said Rafiqul Islam, another trader.
Courier transport services, buses, trains and trucks are being used to transport the fruit.
​Many people, who came with microbuses, cars and other vehicles, were seen roaming around and buying litchi.
"Taking protection measures, we a few friends came here to buy litchi. The fruit is available in our area but we want to buy it directly from Dinajpur market," said Tahat Ratul, who came from Bogura to buy litchi for his family and relatives.
Ahmed Sharif Rubel, lessee of the market, said some 800 to 1200 people daily come for selling their produce at the market and they have been asked to follow the guidelines including maintenance of social distancing and use of face mask.
Growing litchi and its trade creates job opportunity for a large number of people in the district.
Mahmudul Alam, deputy commissioner of Dinajpur, said the administration tried to ensure that the growers get fair prices.
Litchi business in the district involves transaction of around Tk 500 crore every season, said Touhidul Iqbal, deputy director of the Department of Agriculture in Dinajpur.