Construction of hanging bridge at Nafakhum draws criticism on social media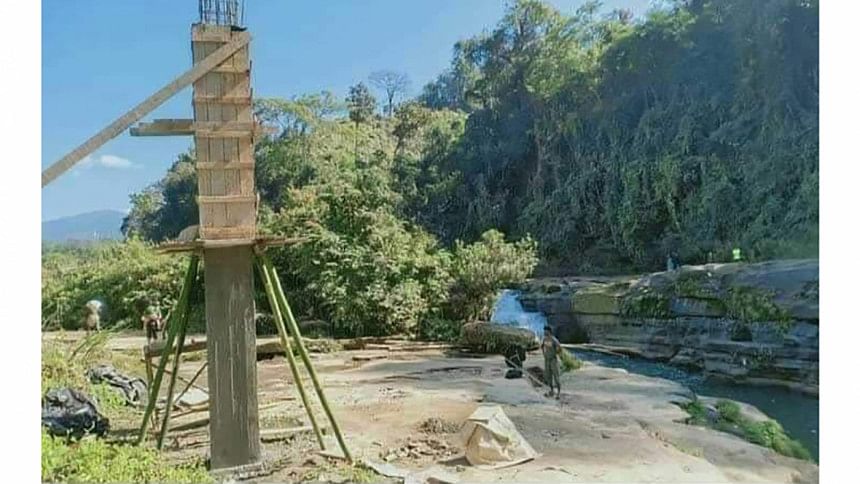 A photo of an under-construction hanging bridge at Nafakhum waterfall, a popular tourist attraction in Bandarban district, has gone viral on social media, with netizens protesting the "development", claiming that it is detrimental to the natural beauty of the area.
"Nafakhum has lost its beauty," said a Facebook post with the photo published by one Sahadat Hossain on Saturday. 
The photo shows a concrete pillar constructed adjacent to Nafakhum waterfall.
Sharing the post, one Mong Sing Hai Marma wrote, "RIP Nature Beauty (Nafakhum waterfall)."
"Let's all protest together. It should stop. They want to make a garbage dump," one Niaz Morshed Tahan said in a comment.
Bandarban Hill District Council (BHDC) is constructing the hanging bridge and a cottage adjacent to the waterfall, ruining its scenic beauty, locals alleged.
Thowai Chaw Mong Marma, sub-assistant engineer of the project, said they have already constructed the cottage while they will complete the construction of the hanging bridge at Nafakhum in January.
"Following the suggestion of Kwe Shwe Hla, chairman of Bandarban Hill District Council, we are constructing the hanging bridge at Nafakhum waterfall so that tourists can see the whole beauty of the waterfall," said Thowai Chaw Mong.
"The total cost of the project is around Tk 50 lakh," he added.
"If the hanging bridge is constructed at Nafakhum waterfall area, it will totally destroy its natural beauty, which will be really unfortunate," said Jumlian Amlai, president of the Bandarban chapter of Parbatya Chattogram Forest and Land Rights Protection Movement.