Chal bhaja, only item for poor char people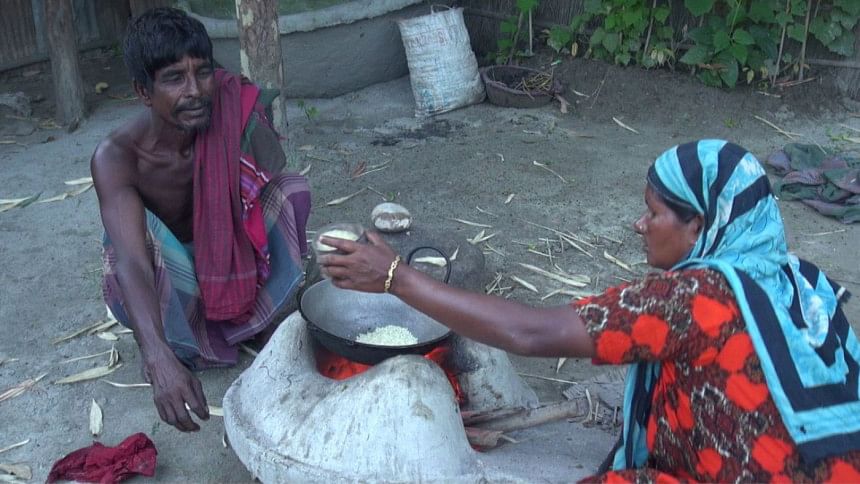 Like many others, chhola boot (fried and spiced chickpeas), puffed rice, beguni (a popular item prepared with aubergine), piyaju (made with finely chopped onion with lentil paste) and seasonal fruits should be their usual iftar items but farm labourer Abu Taleb, his wife and two daughters used to break their fast with chal bhaja (fried rice) daily.
The 53-year-old day labourer hails from the Teesta river's Kalmati char area of Lalmonirhat Sadar upazila.
"Although my family members don't want to take fried rice as the lone iftar item every day, we have to break our fast with it as I can't afford the traditional iftar items," said Taleb, who lost his 12 bighas of land to erosion by the river in the last 10 years.   
Taleb's wife Naheda Begum said due to their poverty, they have to take fried rice and lentil, potato mashed and vegetables during iftar and sehri every day.
Another farm labourer Sobhan Miah, 55, of the same char area, said "We earn Tk 250 to Tk 300 every day by selling our labour and it's not possible to arrange various iftar items with the little income."
Finding no other alternative, they have to take fried rice during iftar, he said.
Sobhan's wife Fatema Begum said, "Usually we take fried rice during iftar. We want to take different iftar items but can't afford those due to our poverty."
Elderly villager Mahir Uddin, 75, of Char Gobordhan in Aditmari upazila, said they are habituated to fried rice as they cannot afford other traditional items during iftar. 
Shafiqul Islam, an NGO representative working for the welfare of char people in Lalmonirhat, said at least 70 percent people of Teesta shoal used to take fried rice during iftar while the rest take chira, puffed rice and molasses.
Over 80,000 people of five upazilas in the district live in Teesta shoal areas, he said.
Mofazzal Hossain, chairman of Rajpur Union Parishad in Sadar upazila, said he visits different char areas during the holy Ramadan and tries to provide various iftar items according to his ability.