Arms and narcotics cases: Erfan Salim, bodyguard on 5-day remand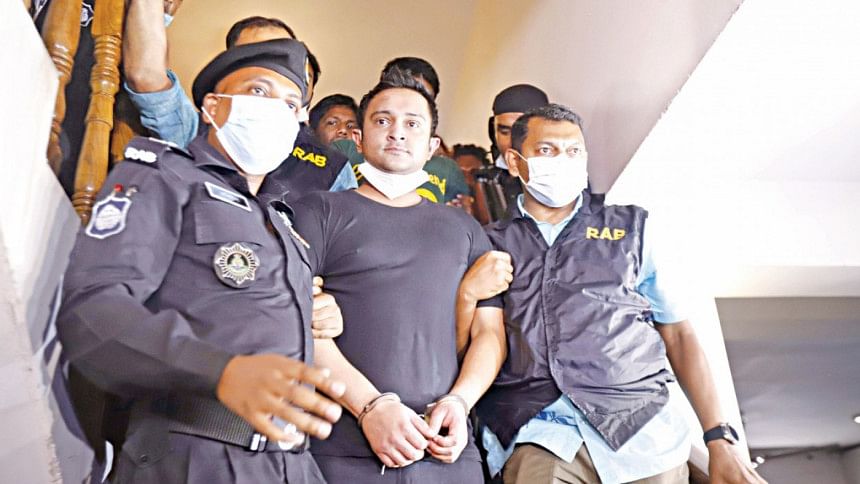 Erfan Salim, son of Dhaka-7 lawmaker Haji Salim, and his bodyguard Zahidul Mollah, have been placed on a five-day remand each in four cases filed under arms and narcotics control acts.
Metropolitan Magistrate Satyabrata Sikder placed Erfan and Zahidul on a two-day remand each in two cases filed under the narcotics control act with Chawkbazar Police Station on October 28 while Additional Metropolitan Magistrate MdKaisarul Islam placed the duo on a three-day remand each in two cases filed under the arms act with the same police station.
Read more: Assaulting A Navy Officer: Haji Salim's son Erfan arrested
The courts passed the orders after Md Delwar Hossain, a police inspector of Chawkbazar Police Station and also the investigation officer of the cases, produced them before their courts with a 28-day remand in the four cases.
Defence, however, submitted four separate petitions seeking cancellation of the remand prayers on the grounds that during the drive law enforcers "tortured their clients and their family members". Police filed the cases only to harass them, the defence added.
Police during a drive on October 27 seized five bottles of foreign liquor and a pistol with two rounds of bullets from Erfan while 406 pieces of yaba pills and a pistol with four rounds of bullets from Zahidul.