Khirsapat mangoes to get GI status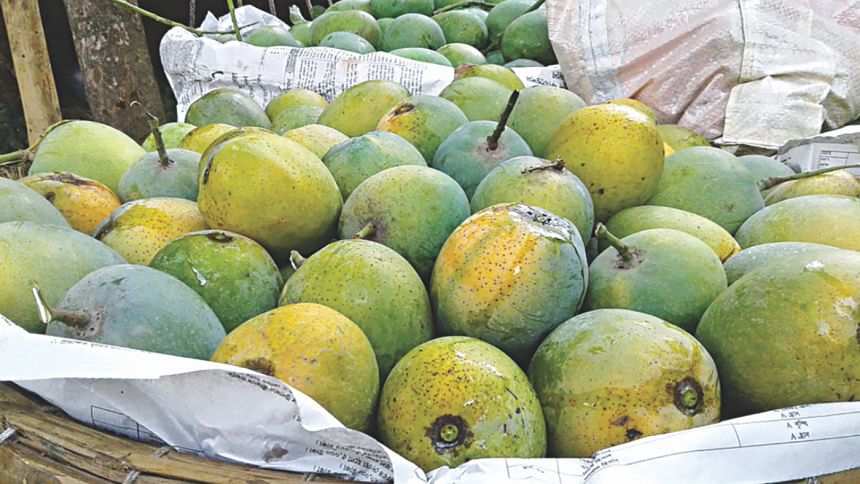 An internationally-recognised sign used on specialty products, geographical indication links products with their specific origin, be it a country, town or region. Products registered for geographical indication benefit in terms of maintaining quality and authenticity, and in marketing. Following hilsa fish and jamdani saris, the khirsapat mango of Chapainawabganj looks set to join the list of Bangladeshi products with geographical indication status.
"People from other districts often know it as himsagor, but its true name is khirsapat," explains Dr Md Hamim Reza, chief scientific officer of the regional horticulture research station in Chapainawabganj. "It's among the most popular mango varieties in the country. If it gets geographical indication status it will be good news for the district. Demand is likely to increase both at home and abroad as the special quality of this mango and its association with Chapainawabganj become better appreciated."
In a district that produces around 2.4 lakh tonnes of 350 mango varieties per year, egg-sized khirsapat are renowned for their very sweet taste. Around 8.6 centimetres long and weighing on average around 264 grams, the green-skinned khirsapat turns yellowish as it ripens from the first week of June. The flesh of the fruit has little fibre and a pleasant aroma.
"Chapainawabganj is known as the capital of mangoes," says the district's Deputy Commissioner Mahmudul Hasan," and we are trying to brand it as such. Geographical indication for khirsapat will help us. Once it is achieved we hope to apply for ashwina and langra mangoes too." "Chapainwabganj produces twelve percent of the nation's khirsapat mangoes," says Monjurul Huda, the department of agriculture extension's deputy director in the district. "It is a commercially-important variety that enjoys enduring, solid demand."
With the help of the district administration, the Bangladesh Agriculture Research Institute applied to the patent design and trademark department for khirsapat's geographical indication on February 2 last year.