Back home, traumatised
81 women workers return from KSA with scars of physical, mental abuse by employers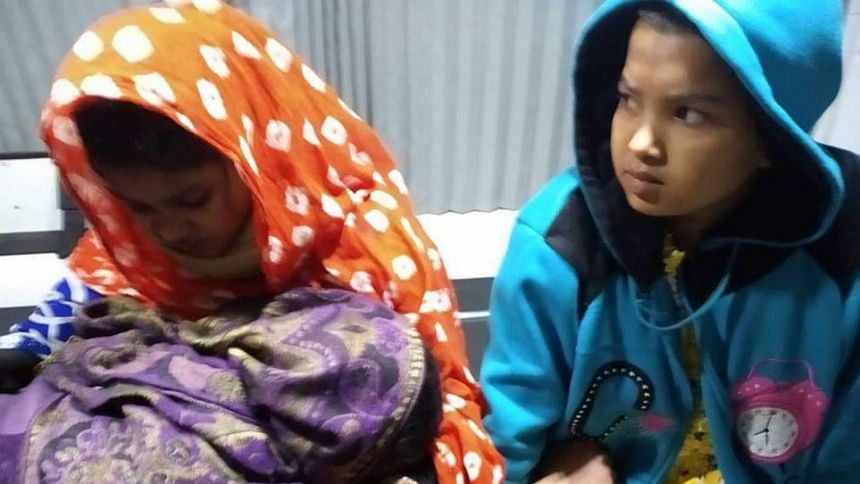 Halima Akhter was so traumatised and physically weak that she was struggling to walk after landing at the Hazrat Shahjalal International Airport on Sunday night. None of her relatives was there to receive her.
She is one of the 81 women who returned from Saudi Arabia by a Saudi Airlines flight around 10:00pm after facing various forms of physical and mental abuses by the employers or agents in the kingdom. All of them went there as domestic workers.
"Of the 81, we found that three women were physically very weak and mentally upset. One could speak a few words, but the two others could not say anything," said Tanvir Hossain, assistant director at the Probashi Kallyan Desk at the airport.
He said they then rushed the three to Kurmitola General Hospital. The women were later referred to Dhaka Medical College Hospital (DMCH).
Dr Bilkis Begum, coordinator at DMCH One-Stop Crisis Centre, yesterday afternoon said only one of the three could say she returned from Riyadh. "The other two could not utter a single word. They were too tired. They were undergoing treatment."
Until they can speak, the DMCH cannot examine them, she added.
Yunus Ali, 65, father of Halima, one of the three, told this correspondent from Sunamganj over phone that his daughter went to Saudi Arabia a year ago and she had to change her workplace three times during the period.
"When she talked to me three to four months ago, she said she was in trouble. Her employer abused her. I don't know what type of abuse…," said Yunus, a day labourer and father of four daughters, of whom Halima is the eldest.
"Halima was 18 years old when she went to Saudi Arabia. I had told broker Raju Mia that Halima was young, but he said it was not a problem," said Yunus.
The two others are Fatema Akhter of Habiganj and Aduri Khatun of Narayanganj.
As per the expatriates' welfare ministry order, no woman below 25 years can go abroad as a domestic worker.
According to officials of the Bureau of Manpower Employment and Training, around 2.8 lakh Bangladeshi women have gone to the kingdom as domestic workers since 1991. Some 2.4 lakh of them went there in the last four years, they added.
Around 8,000 returned home in the last four years after facing various forms of abuses, including physical and sexual ones. They were also not provided with enough food and their wages were not paid, said Shariful Hasan, head of Brac migration programme, which provides emergency assistance to the returnee migrants. 
Most of them came from the shelter home run by Bangladesh Embassy in Riyadh and others from the Saudi detention centres.
There have been a good number of cases where the women returned with pregnancy after rape, with babies and even with psychological problems, he said. Many of the returnees seemed to be adolescents, which is a sharp violation of law, Hasan said.
"Story of each of the returnees is tragic," said Hasan, adding, "We will commit an offence if we don't take strong steps to protect these women."
The expatriates' welfare ministry repeatedly said it would take up a rehabilitation programme for the returnees, but no visible initiative had yet been taken in this regard.
Asked about legal actions against the Saudi exploiters, Gazi Mohammad Julhas, director general of the Wage Earners' Welfare Board, said the women did not want to initiate any case as it took a long time to settle.
Hasan said, "It is shameful for us the way they are abused abroad and we do almost nothing."