C'nawabganj public health services dismal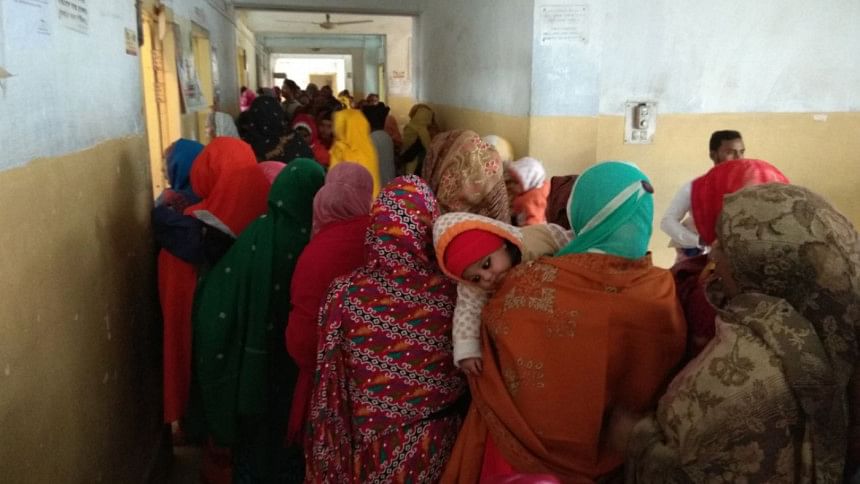 A little good advice: don't get sick in Chapainawabganj town. Health services at the Adhunik Sadar Hospital are in a deplorable state due to the ongoing shortage of doctors, support staff, patient accommodation and general facilities.
Of 21 doctor positions excluding specialists, only 11 are filled. While the hospital is supposed to have a 100-bed capacity, they only have the manpower to service fifty; while patients routinely number several hundred. In circumstances where admission would be advisable, the staff shortage leaves many to be treated as outpatients. For the district's 16-lakh population, the healthcare situation is dire.
"I admitted my father at the hospital recently, due to old age complications," says Khairul Islam from Kalinagar village in Sadar upazila. "He did not get any bed. He took treatment on the floor."
"I arrived at the hospital at 9:00am seeking help for my sick son. He is three-months old," says Rima Begum from Doulatpur in Shibganj municipality. "I wasn't able to see a doctor before 1 p.m. Many patients tire of waiting and actually return home without a consultation."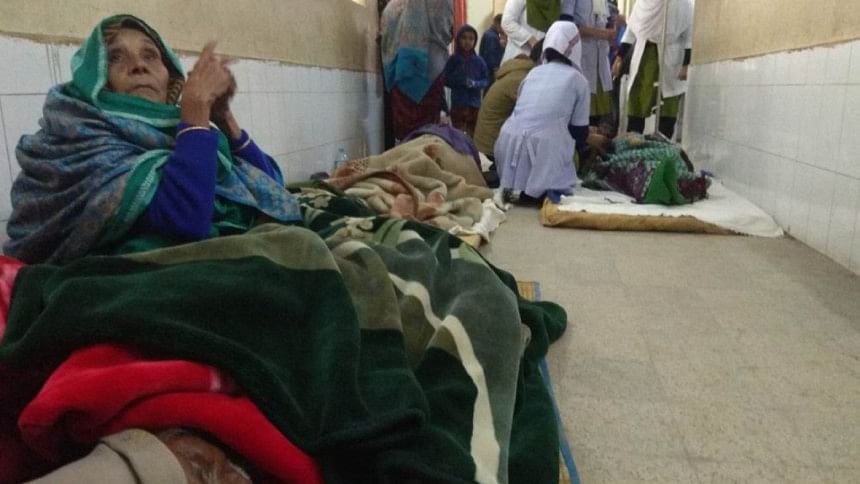 The hospital grounds, wards and corridors are brimming with similar patient experiences.
"I have to consult up to 200 outpatients daily," says one sub-assistant community medical officer. "Sometimes patients and their attendants become frustrated as we cannot give proper attention. Many are treated as outpatients because of the doctor shortage."
By way of specialists, the hospital has a junior paediatrician and a junior gynaecologist, along with a senior orthopaedic and a junior maxillofacial surgeon, both working on deputation. The allocated posts for six specialists, two medical officers, one emergency medical officer, one radiologist and a resident medical officer have long been vacant.
At present there are no senior consultants in the ophthalmological and paediatric departments, and no junior consultants in several others including anaesthetics, ear-nose-and-throat and radiology, according to hospital staff. The posts of hospital and service superintendents, an administrative officer and a statistics officer are all vacant.
The shortage creates a situation where there are two medical officers for outpatients, while another two look after the emergency department. Locals complain that to arrive at the emergency department in the evening is to be deprived of service.
"We treat up to 1,000 outpatients daily," says the hospital's acting resident medical officer Dr Nadim Sarkar. "With such numbers, doctors are unable to treat patients attentively. We can only try to do the best with what we have."
Indeed the hospital's problems extend to daily running costs. A large generator that is supposed to supply electricity during outages is never used. "We can't run the generator. There isn't enough money for fuel," Dr Sarkar says.
"We've sent a letter to the higher authorities asking for steps to be taken to fill all the vacancies," says Chapainawabganj's civil surgeon Dr Saiful Ferdous Mohammad Khairul Ataturk.
Ironically the hospital is in the process of an upgrade. On April 23 in 2011, the prime minister publicly announced it would be expanded to 250 beds. The construction of a new ten-storey building is underway.
Dr Ataturk believes the staffing situation should improve. "We hope that when our new building is handed to the health department on June 30 in 2018, the crisis will be resolved."
But if history is any guide, it may be wishful thinking.
"The decision to upgrade this hospital from 50 to 100-bed capacity in September 2006 was made without adequate manpower being arranged," complained one official, who did not wish to be named. It remains to be seen if such a planning flaw will be repeated.
In the meantime, patients are left to crowd in front of doctors' doors, hoping against hope for a door to open anytime soon.