Boro seedbed still under water
Farming in Kawadighi Haor likely to be delayed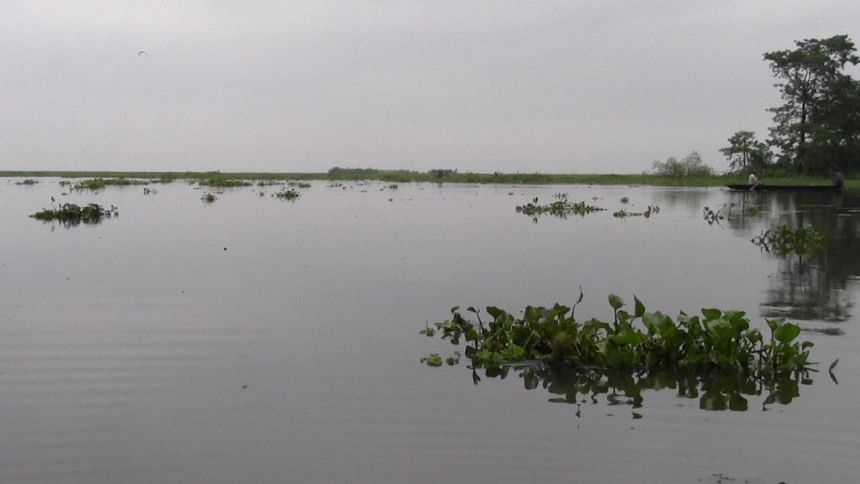 Preparation of seedbeds in Kawadighi Haor in the district is uncertain as most of the land is still under water, raising fears that cultivation of Boro crop may be delayed.
It is not possible to pump out the water as the irrigation pump under Manu river project of Kashimpur is out of order, as a result, it is taking a long time for the water to drain out of the haor.
According to farmers, public representatives, agriculture department and Water Development Board (WDB), Boro paddy in Kawadighi Haor went under water in April. The water decreasesd slightly when the rain stopped. Cultivation of Aman rice was also hampered this year.
Farmer Farid Ahmad of Betahunja village in Fatehpur union under Rajnagar upazila said they are waiting for the water to recede so that they can prepare Boro seedlings.
Idris Ali of Mokambazar area said Boro paddy seedbeds are prepared in Bangla month of Kartik, but it is not possible now as the land is still under water.
Farmers said if Boro is planted late, the paddy will ripen late too.
District Department of Agriculture Extension (DAE) Deputy Director Mohammad Shahjahan said 5,520 hectares of land have been brought under Boro cultivation in Kawadighi Haor area this season.
Haor Bachao Krisok Bachao Andolon General Secretary Hazi Alauddin said Boro cultivation season is coming and it is time to prepare seedbeds, but the land is still under three to four feet of water.
He alleged that the irrigation pump became damaged due to negligence of the WDB authorities.
Chairman of Panchagaon Union Parishad in Rajnagar upazila Shamsunnur Ahmad Azad said Boro paddy cultivation will be delayed.
Rajnagar upazila Agriculture Officer Sheikh Azizur Rahman said water will decrease when the pump starts functioning.
Deputy director of DAE said farmers will plant short-term BRRI-28 variety.
Assistant Engineer of district WDB Mukhlisur Rahman said a project has been taken to repair the pump, adding that rice fields cannot be irrigated with the pump this season.