'Bangladesh can become growth engine for entire sub-region'
Says Indian High Commissioner in Dhaka Harsh Vardhan Shringla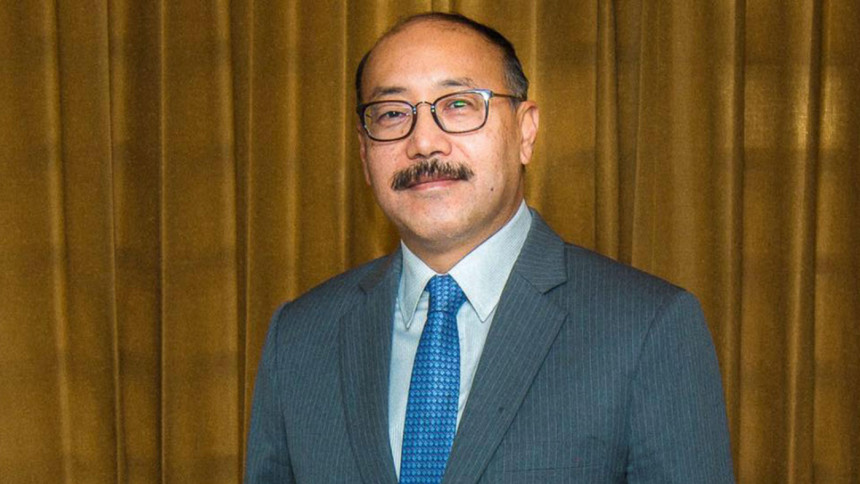 Indian High Commissioner in Dhaka Harsh Vardhan Shringla today said Bangladesh has the potential to become the engine of growth for the entire sub-region.
"Connectivity has been an important focus of our (Bangladesh-India) relationship," he said while addressing a conference on 'Beyond Summitries: The recent successful visit of Bangladesh Prime Minister of Sheikh Hasina to India' organised by Bangladesh Heritage Foundation in the city.
The High Commissioner said there is immense political will on both sides to see the relationship grow.
He said India is a committed development partner of Bangladesh and they have so far pledged US$ 8 billion in concessional financing to Bangladesh.
During the visit, US$ 5 billion dollars was pledged in concessional financing in addition to the earlier $3 billion in the first and second Lines of Credit.
"This is the largest amount of credit India has committed to any single country which demonstrates that we value our relationship with Bangladesh and accord it the highest priority," said Shringla adding the strength and soul of Bangladesh-India bilateral relationship is in the strong people-to-people contacts.
"A liberalized visa policy and a number of measures to ease access to Indian visa for Bangladesh nationals have boosted the movement of Bangladesh nationals to India who now constitute the largest number of foreign tourists to India," he said.
The 4th railway link (of the erstwhile six railway linkages) between Radhikapur and Birol was inaugurated by the two Prime Ministers. By 2018, work on three more railway links will be completed, Shringla said.
The Maitree Express which connects Dhaka and Kolkata has become a fully air-conditioned passenger service and its frequency increased to four times a week and from August this year, it will become an end-to-end-service significantly reducing the journey time between the two cities, he said.
The High Commissioner said a new Maitree express connecting Khulna and Kolkata is also in the pipeline with the trial run for the same having been concluded.
"To facilitate passenger movement, a new bus service between Khulna and Kolkata has been launched in addition to the links between Kolkata-Dhaka-Agartala; and Dhaka-Shillong-Guwahati."
Shringla observed that the potential of inland waterways for movement of goods and people is relatively untapped.
"However, the commencement of trans-shipment of goods and opening of container services between Kolkata and Pangaon are important developments. In this visit, MoUs signed on passenger and cruise protocol and on co-operation on aids to navigation will certainly boost riverine traffic," he added.
India is committed to supporting Bangladesh in its vision of 'Power to All' by 2021, he said adding at present, 660 MW of power is already flowing from India to Bangladesh. "We hope to add 500 MW to this."
In fact, he said, they are looking at a supply of close to 5000 MW of power to Bangladesh through various kinds of co-operation both in the public and private sector.
This includes two major private sector investments worth a total of US$3.2 billion with Adani Power Ltd. and Reliance Power Limited which will bring an additional 2350 MW of power to Bangladesh.
The High Commissioner said the visit of Prime Minister Sheikh Hasina was also an opportunity to institutionalize co-operation in areas of high-technology such as IT, space, civilian nuclear energy, cyber security, earth sciences.
On security co-operation, he said India and Bangladesh have an ongoing and robust security co-operation and the armed forces of two countries enjoy a close relationship.
Prime Minister Sheikh Hasina visited New Delhi from 7-10 April, 2017 which came after a period of seven years.