'38.3 % secondary students drop out in 2016'
Dropout rate decreased by 2%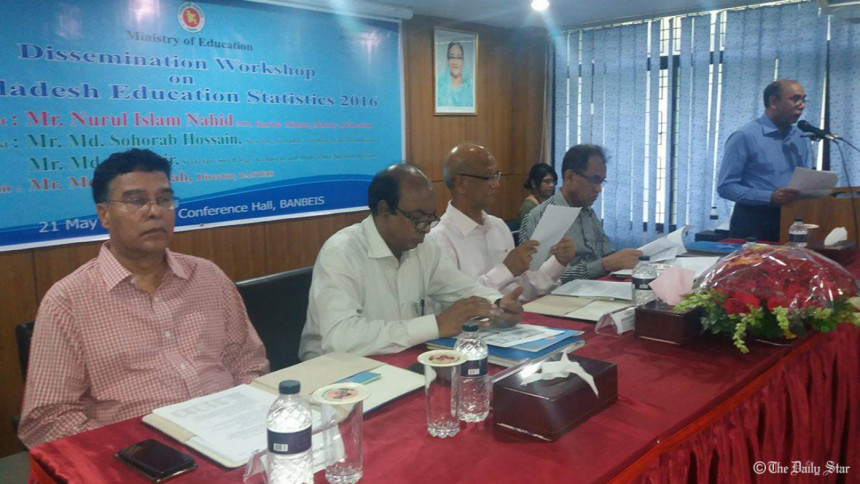 A total of 38.3 percent students in secondary level have dropped out in 2016, which is around two percent lower than that of the previous year, a report revealed today.
The dropout rate was 40.29 percent in 2015, according to the report of Bangladesh Bureau of Educational Information and Statistics (Banbeis).
In 2016, the dropout rate among girls in secondary level was 42.19 percent and among boys was 33.80 percent. In 2015, the rates were 45.92 percent and 33.72 percent respectively, the report said.
Banbeis revealed the information in its report on Bangladesh Education Statistics-2016 at a dissemination workshop at its auditorium in Dhaka this afternoon.
Education Minister Nurul Islam Nahid was present as the chief guest at the workshop.
Meanwhile, the enrollment of students in secondary level in 2016 was 67.84 percent, of which girls were 73.10 percent and boys were 63.85 percent.
Both dropout and enrollment rates for girls are higher than that of boys in secondary level, which suggests that boys are surviving better than girls, said Shamsul Alam, chief of Statistics Division of Banbeis.
Meanwhile, in primary level, the dropout rate has lowered to 19.2 percent in 2016 from 20.4 percent in 2015, the report also revealed.
Also, the dropout rate in higher secondary level in 2016 was 20.08 percent, with 23.83 percent girls and 16.55 percent boys dropping out from studies, the report said. 
According to the report, girls comprise of 51.9 percent of the total number of students in secondary level in Bangladesh, which is the highest among the E-9 countries.
The other E-9 countries are Brazil, China, Egypt, India, Indonesia, Mexico, Nigeria and Pakistan.