Single-dose Johnson & Johnson vaccine gets emergency use authorization in Bangladesh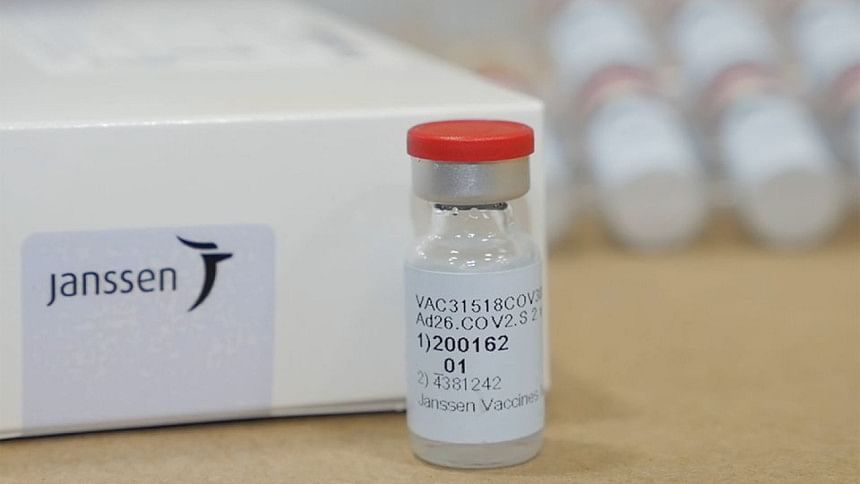 The Directorate General of Drug Administration (DGDA) has issued emergency use authorisation (EUA) to Johnson & Johnson's Covid-19 vaccine "Janssen" in the country today.
It is the first single-dose Covid-19 vaccine approved for emergency use in the country.
The Line Director (MNC&H) of the Directorate General of Health Services (DGHS) applied for the approval as the local distributor of the vaccine, according to a press release issued by the DGDA today.
The EUA was issued as per the recommendation of the committee for the evaluation of drug, investigational drug, vaccine, and medical device in case of public health emergency, said a press release signed by Maj Gen Md Mahbubur Rahman, director general of DGDA.
Earlier, the DGDA approved five double-dose Covid-19 vaccines for emergency use in Bangladesh.
The other approved vaccines are: Covishield produced by Serum Institute of India, Sputnik V produced by Generium Joint Stock Company of Russia, Sinopharm produced by Beijing Institute of Biological Products Co. Ltd of China, Pfizer vaccine manufactured by Pfizer Manufacturing Belgium NV, and Coronavac produced by Sinovac Life Sciences Ltd of China.
The Janssen vaccine is indicated for active immunization to prevent Covid-19 caused by SARS-CoV-2, in individuals 18 years of age and older.
Earlier, the World Health Organization, the European Medicines Agency (EMA) and the Food and Drug Administration of the United States of America and Health Canada also approved this vaccine for emergency use.