Wait almost over for Golden Rice release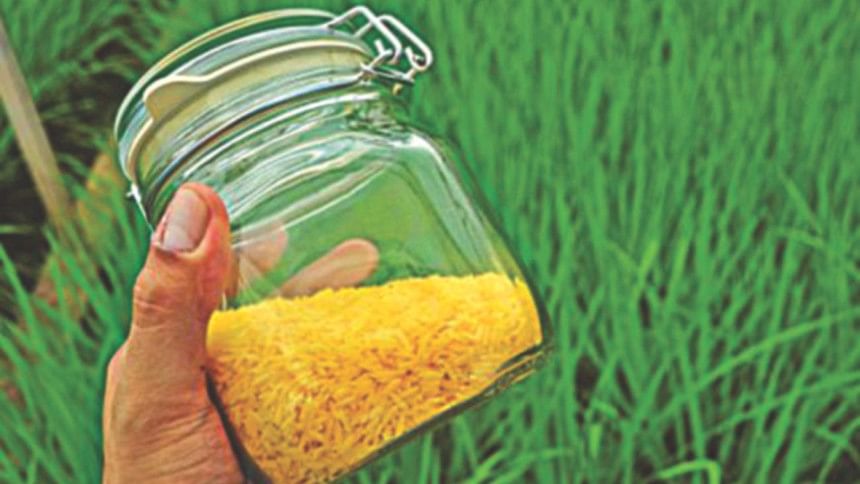 Bangladeshi rice scientists have advanced a
beta carotene-rich
rice to a varietal release stage, heralding a new era in
fight
against vitamin-A deficiency (VAD).
They said the wait is nearly over for release of Golden Rice, a long touted remedy to VAD.
According to the World Health Organization's global VAD database, one in every five pre-school children in Bangladesh is vitamin A-deficient. Among the pregnant women, 23.7 percent suffer from VAD.
Upon positive outcome from two successive years of "confined" field trials, the breeders at the Bangladesh Rice Research Institute (BRRI) have just gone for a final cycle of multi-location field trials and sought a regulatory approval from the government for an "unconfined" field test prior to seeking a variety release approval.
BRRI Senior Plant Breeder Dr MA Kader, now overseeing the Golden Rice programme, said in last Boro season they  got 10 to 12 μg/g (micrograms/gram) beta carotene in a BRRI dhan29 line genetically converted into Golden Rice, which should be enough to address half of rice-eating consumers' daily deficiency of vitamin-A.
"This season [Boro], we've gone for 'confined' field trials in five different agro-ecological locations again. Besides, we've also sought permission for an open field trial prior to starting the process of varietal release," explained Kader.
Dr Donald J MacKenzie, regulatory affairs and stewardship leader of the Golden Rice Project of the International Rice Research Institute (IRRI), now on a visit to Bangladesh, told the news agency that Bangladeshi rice scientists have advanced the beta carotene-rich rice to a stage very close to release of Golden Rice.
"The Philippines, Indonesia are also developing the Golden Rice but I think Bangladesh is marching ahead," said Dr MacKenzie.
Beta carotene, also known as pro-vitamin A, is a substance that the human body can convert to vitamin A.
With this development, a long wait is nearly over for rice breeders who have been trying since 1999 for a varietal development and release of Golden Rice.
BRRI scientists analysed the post-harvest data collected from the first field test conducted on -- "GR2E BRRI dhan29" -- during the 2015-16 Boro season and again the data generated from multi-location trials conducted in 2016-17 Boro season drawing a conclusion that the results are positive.
BRRI's Golden Rice Project Director Dr Partha S Biswas, now on a visit to IRRI, said 10 μg/g beta carotene in GR2E BRRI dhan29 is good enough to meet 50 percent of vitamin-A needs of people consuming rice in their daily diet.
The vitamin A-rich rice is named Golden Rice for its golden colour. It was first developed by splicing three foreign genes -- two from daffodil and one from a bacterium -- into japonica rice, a variety adapted to temperate climates. It is capable of producing beta carotene.
But for a better beta carotene expression in rice, the daffodil genes were replaced by maize genes later in 2005.
None of the major diseases like blast, sheath blight, bacterial blight and tungro was observed in the transgenic GR2E BRRI dhan29 and the yield was on average 10 percent higher than that of the BRRI dhan29 (check variety) with good expression of beta carotene.