Bernicat's motorcade attacked
Ambassador unharmed; two vehicles damaged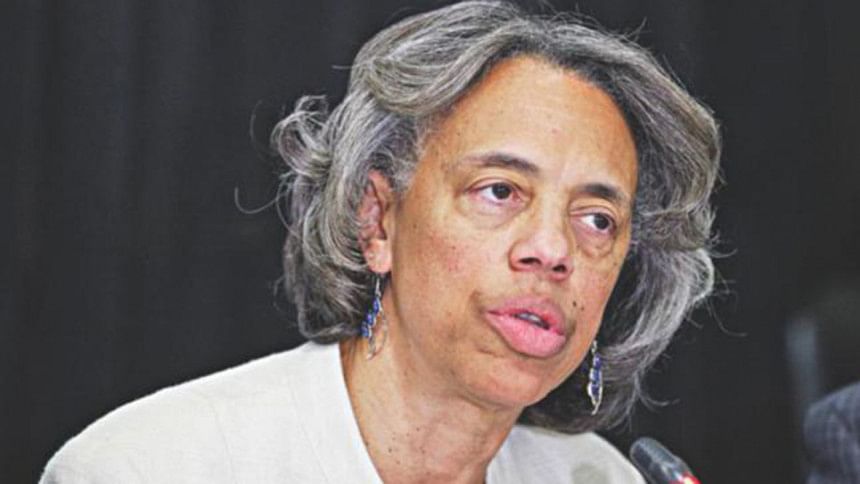 US Ambassador to Bangladesh Marcia Bernicat's vehicle was attacked by armed men, some on motorcycles, in the capital's Mohammadpur area on Saturday, the US embassy in Dhaka has said.
"The ambassador and her security team departed the area unharmed," said a US embassy statement issued yesterday.
There were no injuries to the ambassador, her drivers, or security staff; however, two security vehicles sustained some damage.
"We express our appreciation to the Dhaka Metropolitan Police and security officials for their quick and professional response following the incident," the statement said.
According to media reports, the vehicle carrying the outgoing US ambassador came under attack as it left the house of Shusashoner Jonno Nagorik (Shujan) Secretary Badiul Alam Majumdar in Mohammadpur on Saturday night.
Badiul said some guests, including Bernicat, went to his house on Iqbal Road to attend a dinner. As she was leaving around 11:00pm, a group of miscreants chased and threw brick chips at the vehicles.
Meanwhile, the US embassy in a Facebook post yesterday said, "Nothing can justify the brutal attacks and violence over the weekend against the thousands of young people who have been peacefully exercising their democratic rights in supporting a safer Bangladesh. 
"We do not condone the actions of a few who have engaged in senseless property destruction, including of buses and other vehicles."
The peaceful demonstrations of the past week in favour of better vehicle and road safety, led by students and schoolchildren across Bangladesh, have united and captured the imagination of the whole country, said the Facebook post.
Foreign ministry sources said the US embassy contacted the officials concerned of the ministry yesterday morning and requested for an investigation into the attack on the ambassador's vehicle.
They said the ministry officials instantly informed the US embassy that police had already began an investigation and would bring the culprits to book.
Besides, British High Commissioner to Bangladesh Alison Blake, Canadian High Commissioner to Bangladesh Benoit Prefontaine and UN Resident Coordinator Mia Seppo jointly met Foreign Secretary Md Shahidul Haque at his office yesterday afternoon.
But it could not be known what they discussed.
In another development, different embassies in Dhaka, including that of the US and Australia, have issued alerts for their citizens living in Bangladesh over the ongoing student protests that began after a bus accident caused the deaths of two students on July 29. 
The embassies also encouraged their nationals to remain vigilant, as the demonstrations could
continue for the next several days.