Faecal sludge management new sanitation challenge
Star, DSK, ITN-Buet, Practical Action Bangladesh roundtable told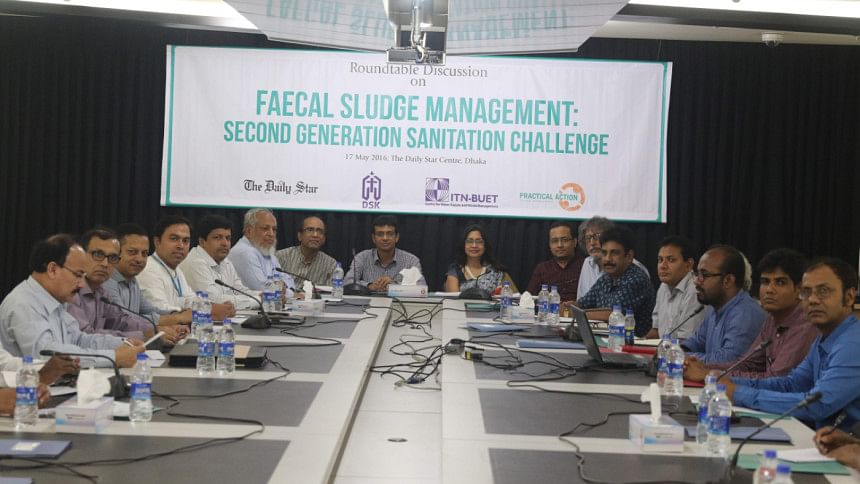 Emphasising the need for managing the faecal sludge (human excreta) speakers at a roundtable yesterday said this sludge will pose huge threats to environment and public health if not properly managed.
The construction of thousands of pit latrines without thinking of ensuring proper hygienic separation of excreta from human contact and faecal sludge management (FSM) eventually emerged as a second generation sanitation problem for the country, they said at a programme at The Daily Star Centre in the capital.
Practical Action Bangladesh, ITN-Buet, Dushtha Shasthya Kendra (DSK) and The Daily Star jointly organised the programme.
Prof Muhammad Ashraf Ali, a teacher of Bangladesh University of Engineering and Technology, gave a keynote presentation on "Faecal Sludge Management: Key Issues and the Institution and Regulatory Framework."
He mentioned that only four million or 20 percent of the total population of Dhaka city is currently under the sewerage network coverage while the rest 156 million are covered by on-site system. "In the absence of proper pit-emptying services in the latrines, the pit-contents are often drained into the surrounding low lying areas manually posing a great risk to cleaners and public health," he observed.
It is urgent to emphasise proper design, location and construction of sanitation facilities for the sludge management, Prof Ashraf said, adding that the city corporations and municipalities are still not capable of managing the sludge.
Admitting the fact, Uttam Kumar Roy, commercial manager of Dhaka Water Supply and Sewerage Authority, said they lack required manpower for doing the job which is needed to be done collectively to reduce costs.
Tariq Bin Yousuf, superintendent engineer of Dhaka North City Corporation, also echoed Roy and said they are facing challenges to find lands for waste disposal.
Hasin Jahan, country director of Practical Action Bangladesh, gave the welcome speech while representatives of the government and non-government organisations also spoke.