A teenage wasteland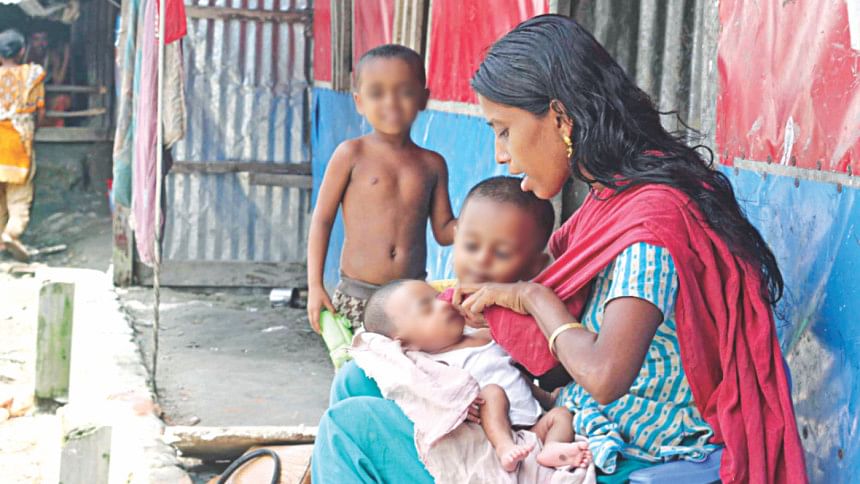 It takes only 15 minutes to travel to Rasulpur char (landmass emerging from riverbed) by a boat from Barisal city.
Upon arrival, amid the greeneries, you will come across gaggles of children playing amongst themselves, accompanied by a group of teenage girls sitting by the fields under the open sky, gossiping.
Though at first the serenity of the surroundings will make you overlook the fact that most of these kids are lacking mental or physical growth, but soon you will notice these 3-5 years old are malnourished and born with low birth weight.
By the time that information sinks in, one also learns that the teenage girls watching over the children are not elder sisters, but rather their mothers.
Early marriage has become a norm in Rasulpur char, which has a population of around 5,000, mostly comprising fishermen and people involved in hard labours.
Most of the teenage girls are either married off or going to be since marriage according to their parents is the only way they can secure a protected or safe future for their daughters.
"When my daughter became 12, my worrying started. I did not want influential locals to bother her," said a mother of a girl, who was married off recently.
Rasulpur char, one of the biggest in Barisal, situated on the west side of the Kirtonkhola river, is under ward-9 of Barisal City Corporation (BCC).
"Around 1,000 families live there and you will find occurrence of child marriage in most of them," said Ward Councillor Harun-or-Rashid. "The families arrange the marriages secretly and we do not get any timely information for intervention," he said.
Lucky begum, 20, lives with her husband, a day labourer. She got married seven years ago. They have a four-year-old daughter. "I was 13 when I got married; I had no knowledge about marriage or the responsibility," she said.
"I did not take any necessary vaccination because I could not go to any health centre regularly since my parents were not aware of that," she said, adding, "Often I feel weak and tired."
Not only Lucky, most of the young mothers give birth at home without any skilled attendant, putting both the mother and child at risk.
"There are no delivery centre here, if anyone wants to go to a medical facility they have to cross the river, and have to spend a lot of money," said Chanbaru, 60, a self taught birth attendant of the area. "I, on the other hand, just help people. I take whatever they can offer. There are no complaints or accidents," she said confidently.
Taslima is an 18 years old pregnant mother. She was married off five years ago and has an 18-month-old daughter already. Mitu Begum, 20, Rajia Begum, 14, Salma Begum, 19, all have been married and have children of their own.
While visiting the area this correspondent found that none of the young mothers were vaccinated properly and their children were born with low birth weight.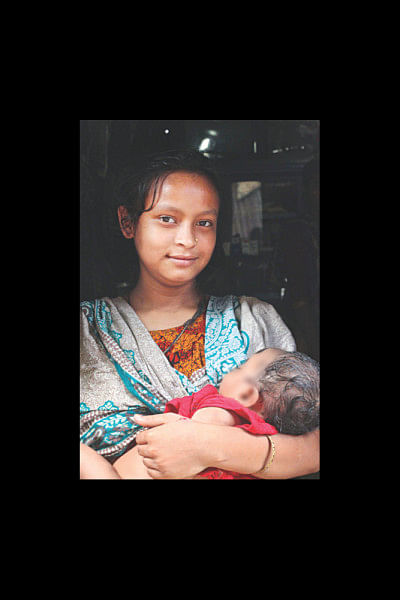 Children born with low birth weight are likely to suffer developmental impairment and have risk of illness and even premature death, said Matiur Rahaman, chief health officer of BCC.
"Every two-three months a family will marry off their daughter," said Rina Begum, an activist who lives in the char. "A few of the marriages were foiled by the district administration, but that did not change anything," she said.
Hafsa Begum, a health worker of the City Health Centre, situated on the char, said, "Most get pregnant at a young age and are not healthy. Many even stop going to school after child birth."
She said her team had provided advice to the teenage mothers but they do not follow them properly. "Many do not even show up, even though the centre is open for all."
"Social insecurity, lack of awareness and illiteracy are the major reasons behind this," she stressed.
Even though there is a school but the attendance is very low, said Zinnat Ara Nabina, principal of Chawk Bazar Government Primary School. "Some do come to school," she said, adding, "Poverty remains one of the main reasons for their families to not to send them to school."
When asked why he fixed his daughter's marriage at such a young age, instead of sending her to school, Mitu Begum's father, a day labourer, unabashed said, "It is better we get our daughters married off quickly. We cannot even look after ourselves properly, how will we take care of them?"
BCC had arranged health camps to make people aware about receiving health services and child marriages, but to no avail, said Matiur.
Akkas Hossain, president of Consumer Association of Bangladesh (CAB) and a rights activist, said, "Most of the people of Rasulpur char are illiterate and not aware, so they cannot utilise the government's services properly. A joint collaboration between the government and NGOs is a must to mitigate the crisis."