No confidence plea filed against Ctg cocaine haul charge sheet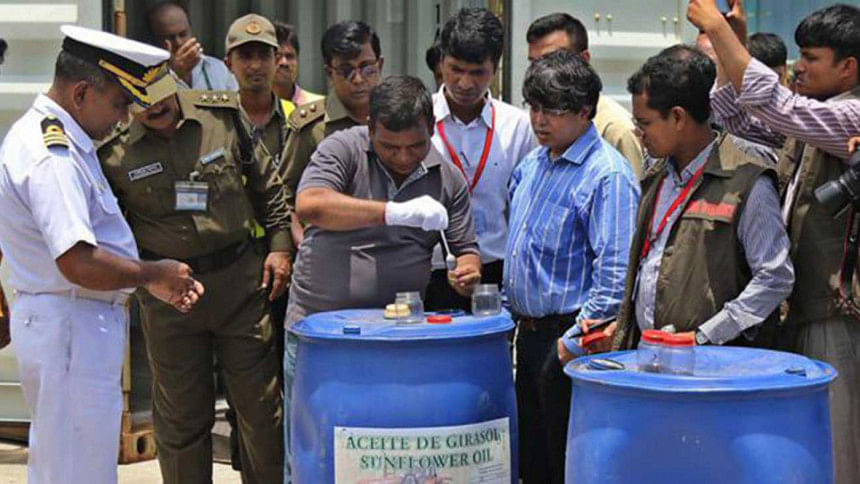 Prosecution today submitted before a Chittagong court a no-confidence (naraji) petition against the second charge sheet in a case filed over seizure of liquid cocaine at the Chittagong Port in 2015. 
Read More: Liquid cocaine, not edible oil
As the second charge sheet has been prepared based exactly on the old investigation, the prosecution filed the no-confidence petition, Public Prosecutor Fakhruddin Chowdhury told the court.
Read: Name of prime accused dropped from charge sheet
Later, Chittagong Metropolitan Sessions Judge Mohammad Shahenur fixed August 23 for hearing the no confidence petition, our Chittagong correspondent reports quoting the public prosecutor.
The second charge sheet was submitted on May 13 this year against excluding the name of prime accused Khan Jahan Ali Ltd's Chairman Nur Mohammad and accusing eight people.
Additional Deputy Commissioner of the Detective Branch (DB) of Chittagong Metropolitan Police (CMP), also the investigation officer, Md Kamruzzaman submitted the charge sheet to the prosecution under Special Power Act-1974.
On May 8, 2015, a container containing 107 barrels of sunflower arrived at Chittagong Port from Bolivia via Uruguay.
Informed by police, Customs Intelligence sealed off the container on June 6 of that year and later sent samples from each barrel for test in two laboratories in Dhaka which found presence of liquid cocaine in a barrel on June 27.