Tazreen tragedy victims barred from reaching Gono Bhaban`
Eight years on, survivors still cry for justice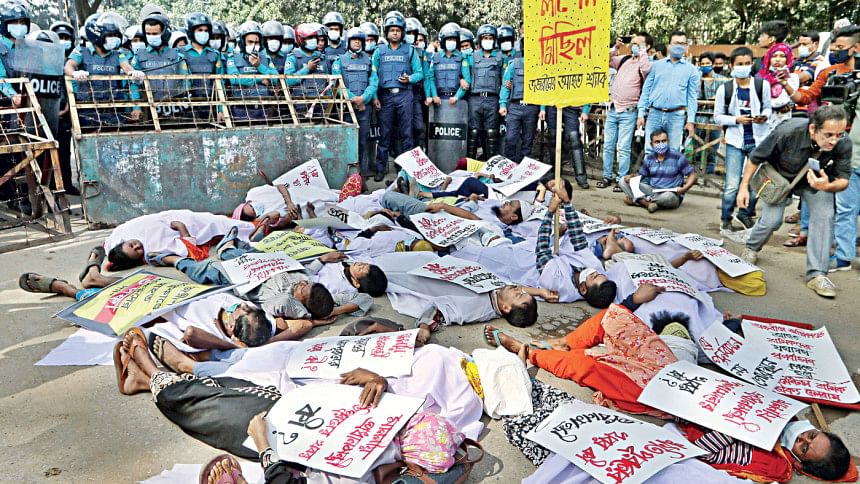 Police yesterday barred the victims of Tazreen Fashions factory fire from going to Gono Bhaban, on the eighth anniversary of the tragedy where at least 113 workers were killed and 172 injured as fire wrecked the garments factory in November 2012.
The workers -- injured in the deadly fire -- were marching to see the prime minister to press home their three-point demand.
They had been staging a sit-in in front of Jatiya Press Club in Dhaka for more than two months, day and night, demanding proper compensation and treatment.
The workers were barred by the law enforcers around 12:15pm. When they faced the barricade, they started to protest there and shouted slogans in favour of their demands.
Rehana Akhter, an injured worker, told reporters that four of her family members died in the deadly fire.
She also had been working at the factory at that time. The only reason she is alive now as she jumped out from the factory building when the fire broke out.
Another injured worker, Jorina, told The Daily Star, "I have been participating in the demonstration here for around two months. I jumped from the building's third floor when the fire broke out in the factory. Now I am living with a broken leg, with no compensation for it."
Meanwhile in Savar, survivors, family members and labour leaders yesterday demanded capital punishment for those responsible for the fire, reports our correspondent.
"We could do nothing except sit in front of the burning building and watch the workers die. This was not an accident -- it was a systemic murder," they said.
Taslima Akhter, president of Bangladesh Garment Shramik Samhati, said, "There has not been a single conviction for any of the RMG disasters where garments workers died. This impunity cannot go on. The negligence of the government as well the garments owners' association must also be investigated." 
On November 24, 2012, fire broke out at Tazreen Fashions Limited, a garments factory in Ashulia, some 35km from Dhaka city.
When the workers attempted to leave the building, the management locked it from the outside. Some 113 workers were killed in the fire. Many jumped through the windows of the building to save their lives.
Two cases were filed with Ashulia Police Station against the factory owner and others. Police submitted charge sheets in both the cases against 13 people, including the factory owner Delwar Hossain, on September 2015. 
The cases are currently under trial at the Additional Sessions Judge Court-1 in Dhaka. Tazreen's managing director Delwar Hossain is out of jail on bail.
Rakib Hassan Shohag, president of Garment Workers Tailors League (Savar, Ashulia unit), said most of the time witnesses remain absent on hearing dates.
Yesterday, the victims urged the government to build a hospital and a dormitory for survivors on the land where the factory is located. They also placed wreaths in front of the factory in remembrance of those who lost their lives in the incident.