Sonargaon recognised as World Craft City
Sonargaon in Narayanganj has been given the status of a 'World Craft City' for Jamdani, following an appeal from Bangladesh National Crafts Council to World Crafts Council to recognise the city's immense contribution to the craft of Jamdani.
This announcement will bring new possibilities for the artisans and their age-old craft, hoped representatives of National Crafts Council (NCC). They said this will help improve the living standards of the artisans.
According to NCC sources, they have been working to develop Sonargaon's Jamdani sector for the past two years. Last January, NCC sent an application to WCC to declare Sonargaon as the 'City of Jamdani'.
On September 5 this year, a representative team from WCC visited the Jamdani industry in Sonargaon.
Later, representatives of the Ministry of Cultural Affairs; Education Minister Dipu Moni; Narayanganj City Corporation Mayor Selina Hayat Ivy; the district administrator; upazila nirbahi officer, and Bangladesh Folk Art and Crafts Foundation in Sonargaon also vouched for the industry.
On October 8, WCC sent the official declaration via email to NCC. The council's executive member Chandra Shekhar Saha said they will organise a press conference soon to reveal more details.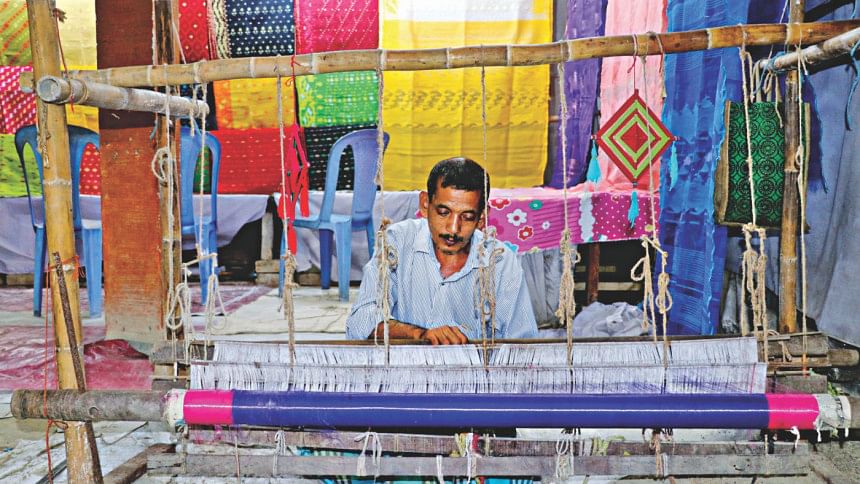 According to Bangladesh Folk Art and Crafts Foundation in Sonargaon, 23 out of 485 villages in the upazila have a significant number of crafts industries, in which there are 83 Jamdani artisans. Of them, 74 are men and only nine women.
The Jamdani made by these artisans are mostly sold at the crafts foundation's store, and there are businesspersons from Dhaka and other cities who order certain designs.
Veteran Jamdani artisan Abul Kalam said, "I make and sell Jamdani clothing myself. This is not a peak shopping season so there isn't much pressure for work, but I'm working on a few orders."
"It takes between 15 days to two months to create quality Jamdani clothing, but the payment we receive does not reflect the time and effort we give," he said. "So, merely getting recognition is not enough, we should be given the opportunity to sell our products at fair prices to as many local and foreign customers as possible."
"If we earn enough money from it, only then can we continue this tradition," concluded Kalam.
Assistant Director of Bangladesh Folk Art and Crafts Foundation, Rabiul Islam said, "This recognition will open up the possibility of creative tourism, and bring in more opportunities for innovation in this sector. It will encourage more people to take up this craft and reinvigorate the ancient art of Jamdani."
"We are hoping that there will be export opportunities as well," he added.
Narayanganj Mayor Selina Hayat Ivy said, "I am incredibly happy that Sonargaon has received this honour. We have not yet received the physical copy of the certificate but once we get it, we will arrange a celebration."