MJF honours 10 unsung rights defenders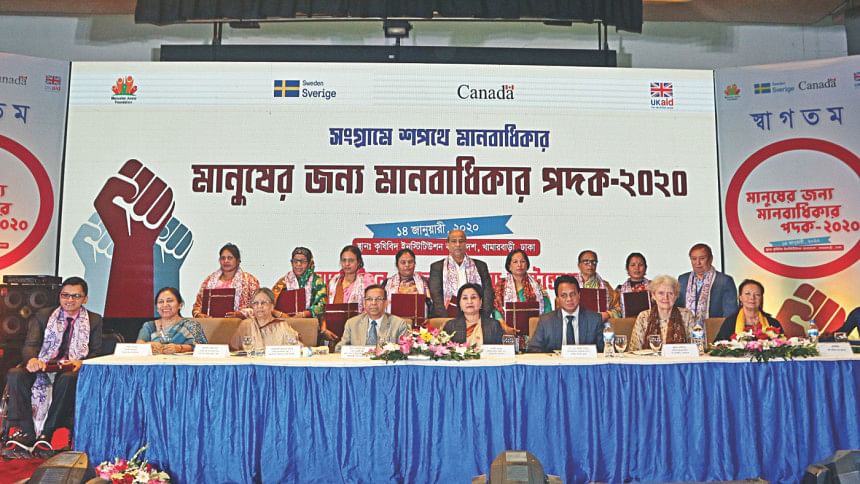 Manusher Jonno Foundation (MJF) yesterday honoured 10 individuals who worked silently for protecting human rights, such as preventing child marriage and violence against women and marginalised communities, at different parts of the country.
The rights organisation handed over the awards titled "Manusher Jonno Human Rights Awards 2020" at a ceremony, held at Krishibid Institution Bangladesh (KIB) auditorium in Dhaka.
The awardees are: Beli Begum of Gaibandha; Rehana Begum and Maloti Rani of Dinajpur; Saleha Begum, Halima Khatun and Nurjahan Begum of Kushtia; Khairuzzaman Monnu of Sirajganj; Anowara Begum of Kishoreganj; Hedayetul Aziz of Brahmanbaria and Chanchal Kanti Chakma of Khagrachhari.
Speaking on the occasion, rights activists urged the government to give more emphasis on protecting rights and ensuring justice for poor and marginalised communities. They also demanded more budget allocation in this sector, according to a press release.
About the awardees, MJF Executive Director Shaheen Anam said these 10 individuals stood up for what is right in the present situation of violence against women, child marriage and the marginalised.
"They are working selflessly without any concern for recognition or rewards to build a just and humane society," she said. The noted rights activist also announced to continue their efforts to honour such unsung heroes.
Speaking as chief guest at the event, Law Minister Anisul Huq said, "The country's economic development and protection of human rights are interconnected."
Referring to several government initiatives, the minister said they are committed to taking appropriate steps to stop violence against women as well as protecting human rights.
Judith Herbertson, country representative of DFID Bangladesh, said the struggle to protect, promote and strengthen human rights is real and constant.
"Where human rights are not adequately protected, there follows a cycle of insecurity, instability, suffering, and poverty. Human rights are more than just principles enshrined in international law. They are the bedrock of successful and progressive societies," she said.
After the award-giving ceremony,  several discussions on various topics -- including global context of human rights and inclusion of marginalised people in national politics -- were held.
Distinguished personalities, researchers, NGO officials, politicians and several hundred rights activists from across the country took part in the discussions, added the press release.
Noted rights activist Sultana Kamal; KM Abdus Salam, director general of NGO Affairs Bureau; Parveen Mahmood, a member of the MJF's governing board; Golam Samdani Fakir, vice chancellor of Green University; Rasheda K Chowdhury, executive director of CAMPE; Iftekharuzzaman, executive director of Transparency International Bangladesh; Sharmin Murshid, chief executive officer of Brotee; Zonayed Saki, chief coordinator of Ganosamhati Andolon; Rezaul Karim Chowdhury, executive director of COAST Trust; and Shama Obaed Islam, an organising secretary of BNP, spoke at the event, among others.