Illegal stone crushers destroying environment
Authorities yet to regulate sector following HC order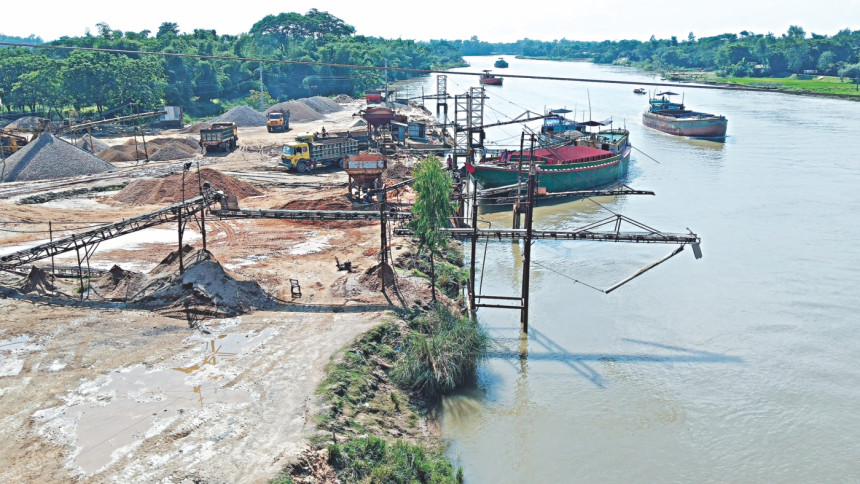 "Just a decade ago, this place was full of open lush paddy fields, but now, all that can be seen are piles of stones strewn across the land." 
Al Amin Ahmed, a resident of Chalia area of Sylhet Sadar upazila, describes the current situation of a once green area near Sylhet-Bholaganj road. He has observed the transformation throughout the years as stone crushers increasingly invaded the land.
Right now, over a thousand stone crushers, the majority of which do not have proper permission and clearance from the  authorities concerned, are being operated in six upazilas of Sylhet, destroying the surrounding environment. The administration is yet to take any adequate steps against them.
Stone or rock crushers are machines that are used to break down large stones into smaller pieces to be used for construction work. These machines are being operated in Sylhet Sadar, Dakshin Surma, Companiganj, Gowainghat, Jaintiapur and Kanaighat upazilas.
To regulate their use "Stone Crusher Machine Establishing Rules 2006" provides information on what can and cannot be done. And the guideline clearly states crushers cannot be used without proper permission or licence. But a rulebook is of no use if it is not enforced.
In 2015, Bangladesh Environmental Lawyers Association (Bela) filed a writ petition with the High Court. On January 24 in 2017, the court ordered to remove all illegal stone crushers, establish specific stone crushing zones and enforce the relevant rules within three months of the order.
Almost three years have gone by but the administration is yet to implement all the orders. All they managed to accomplish is select 133 acres of land in Gowainghat for crushing stones; just selected, the land is not being used as of yet.
During a recent visit to specific areas of the upazilas, this correspondent found them to be full of stone crushers, violating all rules, as if the HC orders were non-existent.
In Sylhet Sadar, a huge part of the Surma riverbank is occupied by stone crushers in Dakshin Surma and Kanaighat. In Jaintiapur and Companiganj, stone crushers operate near highways, educational institutions, villages and in the banks of Dhalai, Kataganj and Sari rivers. Gowainghat's Jaflong is an ecologically critical area, but that didn't stop them from using crushers there as well.
"We have been operating these crushers for years and we pay all taxes accordingly," said Md Ajir Miah, a stone crushing mill owner at Chalia. "We keep the environmental risks in mind and try to abide by all instructions provided by the authorities."
The reality, however, tells a different story.
"Stone crushers beside the roads are harming our farmlands nearby. Moreover, children and elderly are suffering from respiratory diseases due to the dust," Al Amin said.
And it is not just Al Amin, locals all around echoed his complaints.
Contacted, Sylhet Civil Surgeon Dr Premananda Mandal said, "All forms of dust are very harmful for our health, especially for respiratory organs."
"If a worker deals with stone crushers for around five years, their lifespan will go down by 10 years," he said.
According to a study by Bela, there were 606 stone crushers, including 213 permitted ones, in 2015. The total number has crossed over a thousand in 2019 and is continuously increasing.
Contacted, Kazi Emdadul Islam, Sylhet's deputy commissioner, said, "It would be best if all kinds of stone extraction and crushing could be stopped permanently to protect Sylhet's environment."
"We have selected some land to create a stone crushing zone following  the rules and orders, but the process of establishing a zone is yet to begin. We are hopeful to start the process soon," the DC said.
As far as the 133 acres of land is concerned, the supposed solution birthed a new issue as that land is adjacent to a protected forest.
Abdul Karim Kim, general secretary of Bangladesh Poribesh Andolon (Bapa), said, "Many forest lands of the upazila [Gowainghat] are already grabbed by stone traders. If the stone crushing zone is set there, more land will be grabbed, threatening the forest."
In reply, the DC explained that acquiring that much land, that too in a suitable spot, is not an easy task, so this was the best choice. He assured that stone crushers will not be able to encroach land outside the designated spot.
But even if authorities manage to reserve separate land for this sector, shifting all operations there will be a bit more complicated.
Nasir Uddin, Dhopagul Stone Crusher Malik Samity's president, said, "The administration's attempts to relocate all stone crushers to one place will be impossible, because it will greatly drive up the operational cost and subsequently increase the price of stones, which will affect the construction industry."
But the big question still remains unanswered. Why have the authorities not taken any considerable action, defying the HC order for almost three years?
Abdul Karim Kim provided a possible answer. "For years, the administration did not take any serious step against this and the only reason behind it is that many influential people, mostly politicians, are behind the business."
In reply to Kim's comment, the DC denied the claim, saying that the main reason behind the inaction is because the administration first wants to provide a legal alternative for the sector (providing designated land) and then conduct a drive against illegal traders.
Whatever the problems, solutions and complexities may be, residents of Sylhet just want a clean environment where they can breathe fresh air and have healthy lives.