DSA formulated to muzzle free speech
Speakers tell rally in capital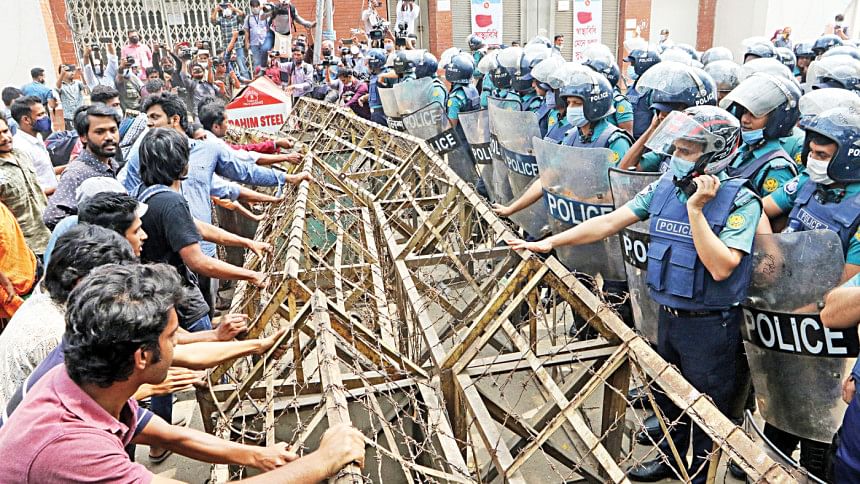 Leaders and activists of progressive students' organisations have called upon the government to abolish the Digital Security Act (DSA), saying that it is being used to muzzle people's freedom of expression.
They also sought justice for the death of writer Mushtaq Ahmed and torture of cartoonist Ahmed Kishore in custody.
Under the banner of Progressive Students' Organisations, students, teachers and writers yesterday held a protest rally in front of the secretariat where speakers made the demands.
Quoting a report by human rights organisation Odhikar, Mohammad Tanzimuddin Khan, professor of International Relations Department of Dhaka University, said about 195 persons have been victims of extrajudicial killing each year between 2010 and 2020.
DSA was enacted to save people responsible for the extrajudicial killings, he opined, adding that the act is formulated to muzzle people's freedom of expression.
Researcher and activist Maha Mirza said, "We fought for the liberation of the country for our freedom of expression and security. But after the 50 years of liberation, we are holding protest rally for our freedom of expression."
"We're being made accused of sedition for criticising the government... Taking the advantages of the act,zis being kept in confinement for months. Had there been any rule of law in the country, such thing would not be happened," she said.
"Even after the 50 years of Liberation we are holding protest for the right of freedom of expression. What else can be more shameful than this?" said Mirza.
She said though the country's economy has made tremendous progress, poor people and farmers are not getting its benefit.
"We've seen that the government has shut down 26 state-run jute mills. Workers of these jute mills are passing days in inhumane condition due to the shutdown," she said, adding that the jute mills were shut down due to unbridled corruption.
Among others, President of Samajtantrik Chhatra Front Masud Rana and President of Bangladesh Chhatra Federation Mitu Sarker spoke.
They demanded withdrawal of cases against seven student leaders, release of labour leader Ruhul Amin, abolishment of DSA and justice for the death Mushtaq and torture on Kishore.
Students and activists of different progressive student organisations began marching from TSC to secretariat via the Central Shaheed Minar, but were obstructed by police in front of the secretariat.