Laurels for leaders of tomorrow
Ten organisations receive Joy Bangla Youth Award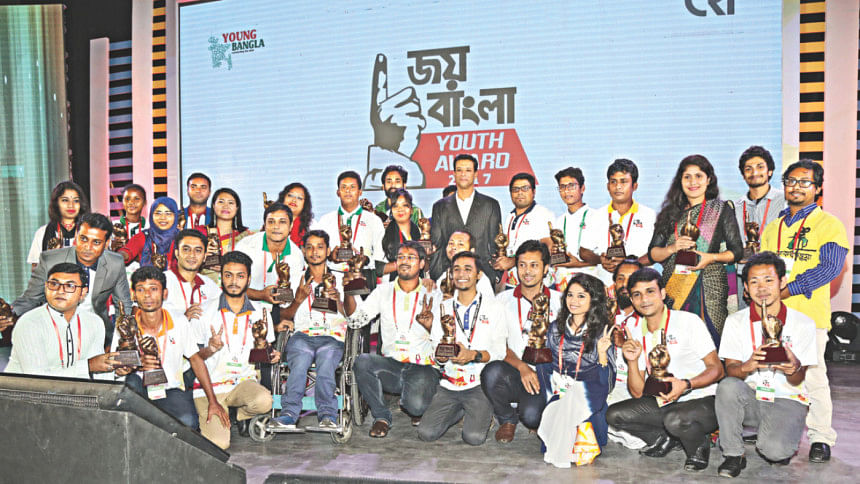 For their outstanding contributions to building the society, 10 social, cultural and sports organisations have been awarded with Joy Bangla Youth Award 2017.
Representatives of the organisations from different parts of the country received the awards during a gala event yesterday at the Sheikh Hasina National Youth Centre in Savar, on the outskirts of the capital.
Young Bangla, a platform for changemakers, and the Centre for Research and Information (CRI) organised the event.
Prime Minister's ICT Affairs Adviser Sajeeb Wazed Joy handed over certificates and crests to the 10 winners on the final day of the two-day ceremony of the second edition of Joy Bangla Youth Award. 
The 10 organisations were selected from a short list of 30-nominated organisations under three categories -- community development, culture and sport, according to the organisers. The remaining 20 organisations were also awarded.
The winning organisations are (for community development)     Shopno Dekho Social Welfare Organisation of Jessore, Youth Society of Barisal, Durbar Foundation of Comilla, Kaktarua of Sylhet, and IPositive of Thakurgaon; (cultural development) Jumphul Theatre of Rangamati, Theatre Murari Chand of Sylhet and Choupash Nattanchol, Bogra; and (sports) Rangatungi United Women Football Academy, Rangpur and Wheel Chair Cricket Welfare Association Bangladesh, Gazipur.
Speaking at the programme, Sajeeb Wazed, also CRI chairperson, said the society went backward because youths lacked determination and confidence to overcome social challenges.
As a socially-committed platform, Young Bangla came forward and searched for those who have dedicated themselves to building the nation, he said.
He further said the stories of the award-winning organisations are incredible and inspirational. "Their stories inspired me and Young Bangla felt honoured to recognise them," he added.
Zahir Iqbal, founder president of Shopno Dekho Social Welfare Organisa-tion, said recognition of their work by a platform like Young Bangla will inspire him and his co-workers to work with more dedication in future.
"This award is not for the organisation but for those who tirelessly work to build the society each day," he added.
Shopno Dekho works in 11 different areas of Jessore without any financial help from local or foreign donors, said Zahir.
He added that their activities include empowering differently-abled children and providing school-goers with the basic computer knowledge.
Receiving the award in sports development category, Hema Hembrom, a member of Rangatungi United Women Football Academy, said the recognition will inspire her and her team members for further developing sports in rural areas.
Two of the academy members are already playing for the national women football team, said Hema.
State Minister for the Ministry of Power, Energy and Mineral Resources Nasrul Hamid, State Minister for ICT Division Zunaid Ahmed Palak, and Young Bangla Convener lawmaker Nahim Razzak also attended the ceremony.
This year, Young Bangla nominated 50 top youth organisations for the award. They announced the nominees after short-listing them from 1,300 aspirants in over 82 sessions in four months, said the organisers.
[Our Jahangirnagar University correspondent contributed to this report]