Jamaat men will be tried even if party changes name: Law minister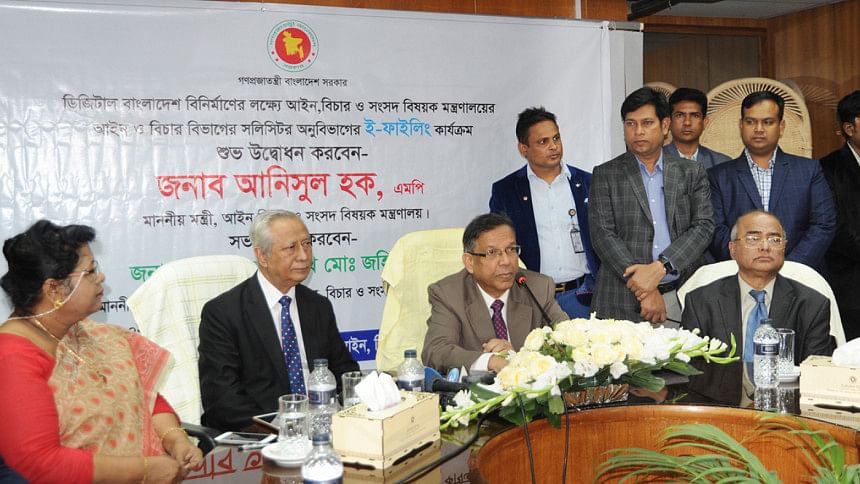 Law Minister Anisul Huq today said the Jamaat-e-Islami men involved in the 1971 crimes against humanity will be put on trial even if the party is reformed under any other name.
"We are trying to hold their (Jamaat men) trial for committing crimes against humanity during the country's Liberation War in 1971. The then Jamaat men who were involved in committing the crimes against humanity in 1971 will be held accountable," he said
The minister said this while talking to reporters after Muktodhara Foundation handed him over a letter from New York governor announcing September 25 as "Bangladesh Immigration Day" at his secretariat office.
The law minister said the Jamaat-e-Islami's registration with the Election Commission as a political party will be cancelled if the Appellate Division of the Supreme Court upholds the High Court verdict that had declared its registration illegal. Then there will be no party in Bangladesh in the name of Jamaat-e-Islami.
Minister AnisulHuq also in a separate program said the country's judicial system will be involved with information and technology in order to ensure justice for the people quickly.
He said this while speaking as chief guest at a meeting organised on the occasion of launching e-filing proceedings of the solicitor wing of the law ministry at the Supreme Court premises.
Attorney General MahbubeyAlam, Law Secretary ASSM ZahirulHaqueDulal, Solicitor Jasmin Ara, Joint Secretary to the Law Ministry Bikash Kumar Saha, among others, spoke to the occasion.