Hasina hopes Bangladesh will build fighter jets
Inducts three L-410 training aircraft, eyes effective airforce by golden jubilee of independence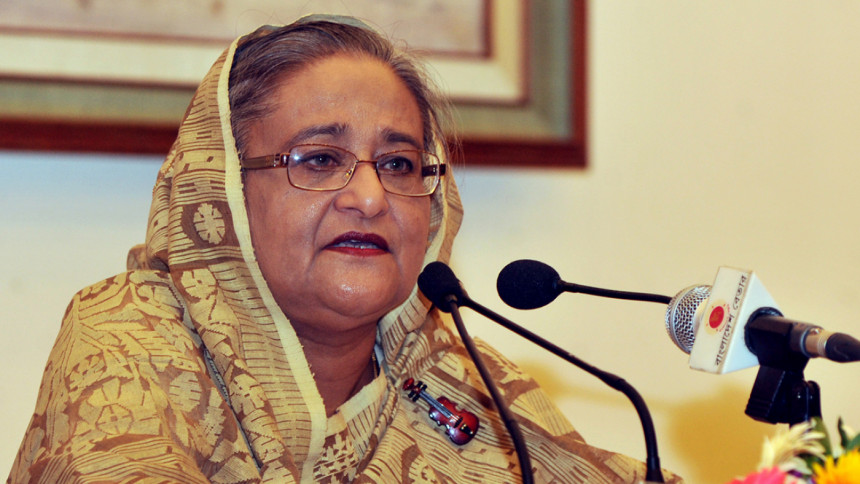 Expressing hope that Bangladesh will one day build fighter planes, Prime Minister Sheikh Hasina yesterday reaffirmed her strong resolve to turn Bangladesh Air Force (BAF) into a strong and more effective force by the time the country observes its golden jubilee of independence.
She was addressing the induction of three L-410 training aircraft to the air force in the capital's BAF Base Bashar.
Hasina said the aircraft would cut training costs and make possible search and rescue operations, patrols, air surveys and deployment of paratroopers.
A jet trainer YAK-130 and a Mi-171SH helicopter will also be procured from Russia with loans while purchase of another Mi-171E helicopter was underway, she said.
Besides, two Agusta Westland helicopters are going to be inducted for maritime search and rescue operations, she added.
Mentioning that there is no alternative to labour, professional skills and honesty, Hasina asked the air force personnel to pay attention to training and exercise imbued with the motto of highest discipline and patriotism.
"Become vanguards at airspace during battle and become close friends of people in tackling natural disasters."
She said Bangabandhu Aeronautical Center was set up to ensure proper, safe and cost-effective maintenance and overhauling of all sorts of aircraft, radar and other machineries, including that of F-7 fighter planes.
She said the overhauling activities of F-7 fighter planes has already started at the maintenance, repairing and overhauling (MRO) plant and work for completing the MRO unit for the Mi series helicopter overhauling was at the final stage.
"I hope such establishments would help the air force achieve self-reliance and create scope for earning foreign currency through conducting overhauling activities of the aircraft and helicopters of foreign air forces."
She also asked the air force personnel to be careful in flying and maintaining the L-410 aircraft which were procured with taxpayers' money.
According to the air force, the government approved the procurement of L-410 on June 26, 2014.
Consequently, 103 Air Transport Training Unit (ATTU) started its journey from April 15, 2015.
This unit will operate Czech Republic made three L-410 aircraft. Four pilots and 23 airmen were trained.
The aircraft will be primarily utilised for conversion, instructor, airmen, aircrew and air movement procedure training and air navigation.
Besides, the aircraft can be used for SAR mission, aerial survey and photo reconnaissance, paratroopers and aerial delivery. With two pilots and capacity of 19 passengers, the aircraft has a maximum range of 1,400 kilometres.
Hasina said a contingent of Bangladesh Air Force comprising 110 members and three helicopters would soon join the United Nations peacekeeping mission in Haiti.