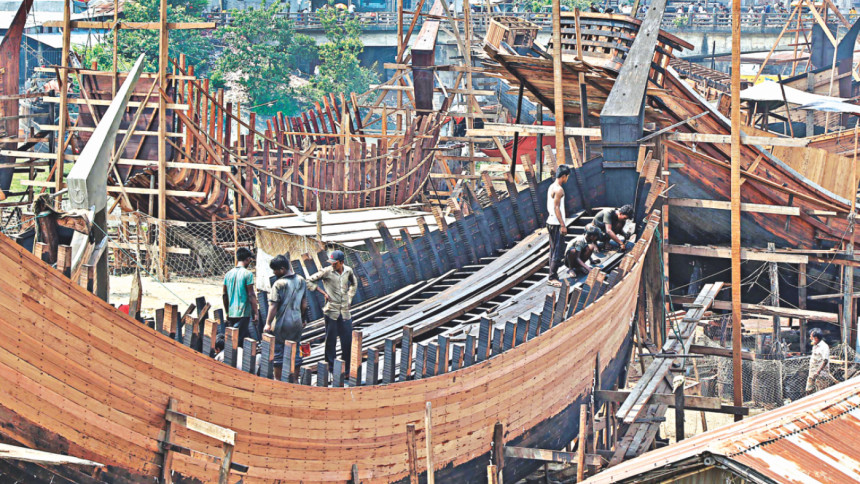 While travelling over the third Karnaphuli Bridge of Chittagong city, one is bound to notice the shoreline of the Razakhali canal for its vibrancy.
With rows of some nearly finished and some unfinished wooden boats lined up by the banks of the water body and craftsmen busy working on the watercrafts, the area is abuzz with activities.
Visiting the area recently, it was seen that carpenters, fitters and mechanics -- all were passing busy time working on the wooden boats.
Some were busy constructing the hulls, sides and decks; while others engaged in putting the final touches.
Boat making is a mammoth task. It takes craftsmen over three months to build one while working for around eight to ten hours a day, they said.
And the dry season, especially from December to June, is the ideal time for making the fishing boats, they added.
The craftsmen said the construction work of around five fishing boats were going on in full swing while seven were already completed. The boats were around 50 feet in length and 15 feet in width, said Shah Alam, a boat maker for 36 years.
Different types of timbers including Garjan, Goda and Jarul were required for making a fishing boat, he said.
"We need some 1,200 feet of timbers for a boat," he said. "Timbers are imported from countries like Cameron, Belgium, Malaysia and Myanmar."
Abdur Rashid, another boat maker, said it takes around four months of rigorous work to make a boat ready to set sail.
While, Akkas Ali, a fishing boat contractor, said four to five types of craftsmen are required to complete a boat. "A new boat could be used for upto ten years at a stretch," said Akkas, who is constructing five boats under contracts from the owners.
Md Babul, an engine fitter by profession, was working alongside his assistant next to an almost finished one. "We have to work with other mechanics as well and look after the entire work," he said.
Siraj Company, owner of three under-construction fishing boats, said, "This being the off season, new boats are getting constructed or repaired. They will be used for fishing in the Bay of Bengal from next month." It costs around Tk 60 lakh to Tk 70 lakh to make a fishing boat, he said.