Young ones lending a big hand
What the local startups are doing in the wake of Corona Crisis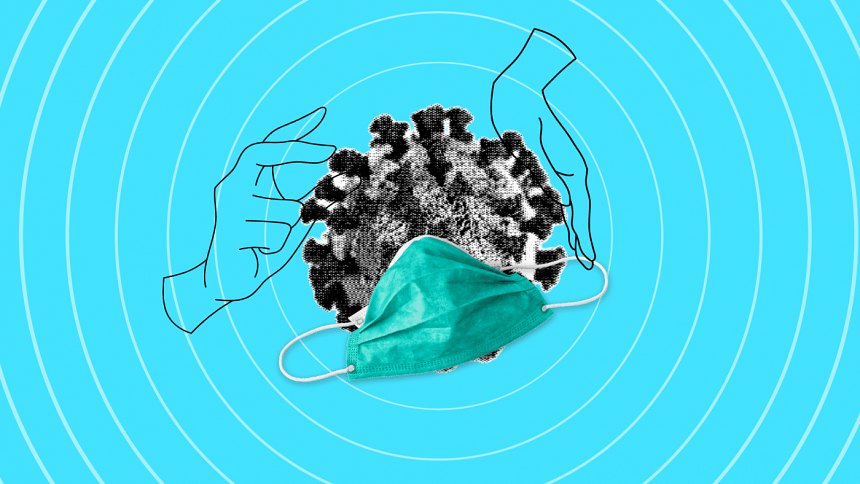 Despite having a nascent ecosystem, startups are becoming an integral part of Bangladesh's everyday life. From ride-hailing to food delivery to remote health check-ups, startups are providing services and products to make our lives easy. Just when the wheels of the startup ecosystem were gaining momentum, disaster struck: 'COVID-19'. Despite enduring heavy toll on their businesses, some startups have come forward to help the customers, the community, as well as the whole country. Here we have listed what some of the startups are doing:
Bongo:
Bongo, the country's one of the largest local video content platforms, have made their entire entertainment library available for free for all users in Bangladesh. In a bid to help people stay entertained while in self-quarantine and isolation to fight the coronavirus, they have removed all subscription requirements.
CMED Health:
The CMED Health team is working on an AI COVID-19 Digital Surveillance Platform for contact tracing, community awareness, screening, follow-up, and management to minimise risks for DGHS. According to CMED Health, they are utilising our 5,000+ healthcare workers in 490 Upazila in this initiative.
Cookups:
Cookups, a startup that shares home-cooked food, has been playing its part by contributing foods for the confined elderly and the homeless on the streets. Although their food delivery service is currently closed due to the lockdown, they are helping by raising funds for Bidyanondo's 'Ek Takai Ahar' initiative.
Cramstack:
Cramstack, a home-grown data analytics platform, has developed a platform to track COVID-19 in Bangladesh. One can get all the latest updates on a single dashboard.
eCourier:
eCourier, a logis-tech startup, has been working Bidyanondo Foundation's 'Ek Takai Ahar'. The delivery agents of the startup are working on delivering Personal Protection Equipment (PPE) to people who are serving the affected in the front-line.
Ella Pad:
Ella Alliance (makers of Ella Pad), in collaboration with the Prime Minister's Office, has launched a free face mask distribution program.  Through this program, local apparel manufacturers in collaboration with the government, are able to distribute masks to the remote areas of the country at a minimum cost. 
Evaly:
E-commerce platform Evaly has launched a new campaign titled 'Evaly Express Shop' for customers to get their essential products (except perishable items i.e. fish, meat, etc.) at home. Through this service, customers will be able to receive their products within 1 to 36 hours.
Jatri:
Jatri, a ticketing and tracking service, is doing its part by helping its partner bus companies by disinfecting them to ensure passengers can travel safely and securely.
LightCastle Partners:
LightCastle, a data-analytics startup, has been analysing the macro and industry level picture and possible impacts wrought about by the COVID-19 crisis. Moreover, LightCastle team members as well the startup has collectively made several donations to credible non-profits like Bidyanondo Foundation.
Maya:
Maya is helping people get access to information by connecting people to medical experts for coronavirus related queries, primarily through Maya's app and hotline. Maya will be closely working together by working with the ground shasthokormi of BRAC to help them conduct an initial screening.
Pathao:
Pathao in collaboration with appropriate government authorities has initiated Pathao Tong service, to deliver food and medicinal products delivered with a commitment to deliver in less than 40 minutes, In order to make the transactions risk-free, Pathao also has enabled contactless delivery of all orders that are paid digitally.


Praava Health:
Praava Health, a family-focused health centre, is providing on-call assistance to its patients including assessing whether you are at risk for COVID-19. In addition to that, they are also offering video visits with Praava doctors, as an alternative to office visits.
PriyoShop:
E-commerce venture PriyoShop is ensuring delivery products to their customers. During the lockdown, they are currently serving the Dhaka city only. Most of the daily essentials including rice, egg, oil, noodles, masks, antiseptics, soap, etc. are being delivered now.
Sheba.xyz:
To support them the vulnerable community, The Daily Star, Sheba.xyz and Samakal have launched an initiative, "Mission Save Bangladesh". Mission Save Bangladesh aims to provide groceries to underprivileged communities, provide financial support for small businesses, and deliver community-based support (such as disinfecting homes, distributing required materials, etc.). Over 2000 marginalised families have received support from this initiative so far.
Shohoz:
Shohoz has introduced an emergency 'Grocery' and 'Medicine' services within Shohoz Food and has already onboarded Agora, Shwapno, Meena Bazaar and nearly 150+ other local grocery & med stores in Dhaka and Chottogram. Moreover, Shohoz Truck is working to ensure necessary supplies reach their destinations all over the country. Shohoz is also planning to distribute PPE via its platform to the people in need.
SOLshare:
SOLshare, a startup working on peer-to-peer solar energy trading platforms using distributed digital ledger, collaborated with Fablab started producing headgears for doctors in advance before they run out. The idea of inspired by the startups in Italy who were using their 3D printers to aid hospitals by providing them vital equipment.
Xtra:
Xtra, a digital gift and reward platform, is helping Bidyanondo Foundation by collecting donations (gift) from home and abroad. Bidyanondo Foundation can then purchase gifts from fixed merchants for the underprivileged
If you are a startup that's also doing something great during this trying time but we missed you in the list, then feel to inform us what you are doing here: [email protected]. We will update the list periodically.