Use the power of youth to solve social problems: Yunus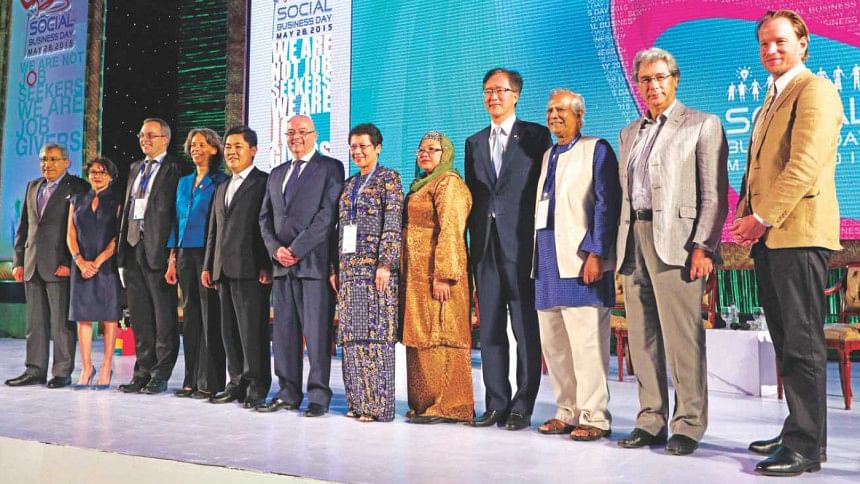 Nobel laureate Prof Muhammad Yunus yesterday called for using the power of youth, technology, social business and good governance to create a world free of poverty, unemployment and carbon emissions.
"It is possible for us to achieve the goals if we can use the superpowers together," he said to an audience of 1,600 at a Social Business Day programme, organised by Yunus Centre at Bangabandhu International Conference Centre in Dhaka.
Anti-poverty crusaders, diplomats, entrepreneurs, businesspeople and academics from 30 countries joined the daylong annual event, now in its sixth year.
Tackling joblessness, which is increasingly becoming a serious threat to peace and prosperity around the world, was the theme of the day, in continuation from last year.
With 600 million young people competing for the forecasted 200 million jobs over the next decade, there is a danger of widespread social and political unrest.
"We have to shun the old thinking process, which has created poverty, and income and wealth disparity," said Yunus, adding that the youth have been misguided into believing that they have to look for jobs after completing education.
"This is wrong. They have creativity. They can solve their own problems and the problems faced by others. They can create their own employment."
Social business has become an important driver in turning unemployment into entrepreneurship in many countries around the world.
A social business is a non-dividend company dedicated entirely to achieving a social goal. The investor gets his/her investment money back over time but never receives dividend beyond that amount.
Through social business, Yunus has launched a campaign to redirect the creative and energetic youth from the traditional path of job-hunting to creating jobs for themselves and others through entrepreneurship.
"Social business can unleash the power of the youth and technology and solve the world's problems much faster and also in a sustainable way. Social business is essential for our safety and security." 
The Grameen Bank founder also touched upon the issues of Millennium Development Goals and Sustainable Development Goals.
"In case of SDGs, everything has to be sustainable. Otherwise, it will not work. If we can ensure zero poverty, zero unemployment and zero carbon emission, we will be able to achieve SDGs."
At the event, cases were shown in which social business has started to produce results much earlier than many had expected.
On the sidelines of the event, a fair was organised, where 50 micro and small businesses took part. The owners of all of the businesses are sons and daughters of Grameen Bank members.
These are also the businesses that struggled initially to take off.
But four Grameen companies have stood by them with equity support after they convinced Social Business Design Lab that their initiatives were viable.
The 50 initiatives not only created employment opportunities for their owners but also for 600 others.
The Yunus-led lab has approved more than 1,000 such projects. Of them, 750 have already received investments at no interest.
Speaking at the opening ceremony, Johan Frisell, Swedish ambassador to Bangladesh, said women empowerment is very crucial. If they get jobs, they make tremendous efforts to be successful, which benefits their families and the society at large.
"With social business, we can help them find jobs outside their homes. To do so, we have to create the infrastructure such that social businesses flourish."
Marcia Stephens Bloom Bernicat, US ambassador to Bangladesh, said the concept of social business applies not only to developing nations but also to developed economies.
She cited the case of Grameen America, which has adapted the solutions that were achieving results in the villages of Bangladesh to the urban neighbourhoods of the US.
The concept of social business is having a noteworthy impact on the formation of new enterprises and a sweeping influence on business education in the US, she added.
Ma Mingqiang, Chinese ambassador, said the event is very timely as all countries around the world are facing the challenges of job creations for the youth entering workforce every year.
Robert Gibson, British high commissioner to Bangladesh, said the social business is the way forward. "Businesses have to serve the society they operate in," he added.
Sharifah Hapsah Shahabuddin, senior consultant at Prime Minister's Department in Malaysia, said her government is committed to supporting social businesses and entrepreneurs.
"Funding is not a problem in Malaysia," she said, adding that social business is now being discussed at the Asean platform as a tool to raise the standards of living.
In a pre-recorded speech aired to the audience, Thomas Gass, assistant secretary general of the United Nations, said social businesses could play a part in many of the goals under the Sustainable Development Goals.
Bill Clinton, former US president, thanked Yunus for dedicating his whole life to the service of the poor.
Terming the Banker to the Poor a good friend, he said: "Your life has been truly a gift to the world."
About social business, he said the model promotes selflessness and benefits to all segments of the society.
Actress Sharon Stone thanked Yunus and anti-poverty campaigners for their valuable contributions to the world.
Speaking at the closing plenary session styled 'Social Business: The Roadmap Forward', Rokia A Rahman, a former president of Metropolitan Chamber of Commerce and Industry, said businesses always take time to adopt a new idea.
"We have seen that attitude in case of corporate social responsibility. Now, a huge amount of money is being spent on CSR projects."
The business leader also said social business is a different commitment to the society. "So we need to publicise the issue and raise awareness."
Enzo Cursio, vice-president of Permanent Secretariat of the World Summit of Nobel Peace Laureates, said social business is a modern way to peace.
Jean Luc Perron, managing director of Grameen Credit Agricole Microfinance Foundation, said social business has to be made attractive to traditional businesses.
The daylong event was graced by the presence of 250 international guests. The highest number of delegates came from China, but there were large numbers of participants from Taiwan, Hong Kong, the USA, India and Australia as well.
Amy Chau, a student and part-timer for a marketing and media relations company, was part of a 10-member delegation from Hong Kong.
She said a huge number of social business ventures, ranging from small to medium enterprises, have been set up in Hong Kong.
"Funds are available for social business projects," she added.
Sunnie Chiu, also from Hong Kong, said the social businesses should identify the real needs of people to make the projects successful.
A total of 12 panel discussions on social business in areas of young entrepreneurship, financing, technology, healthcare, microfinance and youth network also took place, while a number of agreements were signed on the sidelines.
For instance, an agreement was signed to set up a Yunus Social Business Centre at the Becker College in the US.
A Yunus Social Business Centre will also be set up at Royal Melbourne Institute of Technology in Australia.
The centre will partner with Japan Automechanic School and Grameen Australia to develop social business courses, and promote social business research.
At the University of New South Wales, a Yunus Social Business Health Hub will be set up to help weaker sections of the society, leverage technology for social benefit and collaborate with other YSBCs and businesses.
Students of Japan Automechanic School, a vocational training school producing skilled automechanics, and Grameen Caledonian College of Nursing, an institution for producing highly skilled health professionals, performed at the event.
A team from the Institute of Business Administration of Dhaka University won this year's social business plan competition for making concrete board from coconut.
Nine elected directors of the Grameen Bank board also joined the event.